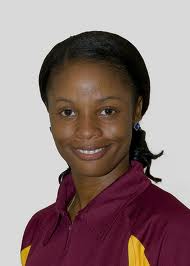 Colombo, Sri Lanka – West Indies captain Merissa Aguilleira said she was calm, focused and confident she would secure a victory for her team in the first T20 International against Sri Lanka at the R Premadasa Stadium on Friday.
Aguilleria made a match-winning 34 not out – including a brilliant shot for four off the last ball – to seal victory by two wickets. West Indies made 90-8 in reply to Sri Lanka's 87-7 to snatch a 1-0 lead in the five-match series. The West Indies needed one run to tie and two runs to win off the last delivery. Aguilleira lofted the ball over the head of the cover fielder for her third boundary and West Indies won by two wickets.
"I was always confident we would win. Actually, I didn't feel any pressure in that situation. I told Shakera (non striker Shakera Selman) we would run for anything, but I was confident I would win it. I picked my spot, but the ball wasn't quite where I wanted it…but I knew in the back of my mind I just needed to make good contact. I got one on the off stump and just hit it over cover. I felt good about the win," Aguilleira told WICB Media.
"It was a great way for the team to start the T20s after we beat them in the One-Day Series earlier in the week. They bowled really well and had us under some pressure, but we never panicked. We learned a lot during the World Cup in India recently and we are now better able to handle these pressure situations. We have had to work very hard for our victories, but we have been rewarded for the hard work," said Aguilleira, who took over as captain four years ago.
She added: "We still have some areas where we have to improve on. We need to be much more consistent with the bat. We reached the semi-finals at the ICC World T20 in 2010 and last year, and we want to win next year in Bangladesh. The conditions here will be similar to those there (Bangladesh) so this will be good preparation and experience for us."
The two teams will meet in the second match on Sunday morning at the R Premadasa Stadium.
TOUR SCHEDULE
One-Day Internationals Series
Friday, February 22: 1st ODI – West Indies won by 4 wickets at Dambulla
Sunday, February 24: 2nd ODI – Sri Lanka won by 4 wickets at Dambulla
Tuesday, February 26: 3rd ODI – West Indies won by 33 runs at at Dambulla
T20 International Series
Friday, March 1:1st T20 – West Indies won by 2 wickets off last ball at R Premadasa
Sunday, March 3: 2nd T20 at R Premadasa – 10 am
Tuesday, March 5: 3rd T20 at R Premadasa – 10 am
Thursday, March 7: 4th T20 at R Premadasa – 10 am
Friday, March 8: 5th T20 at R Premadasa – 10 am