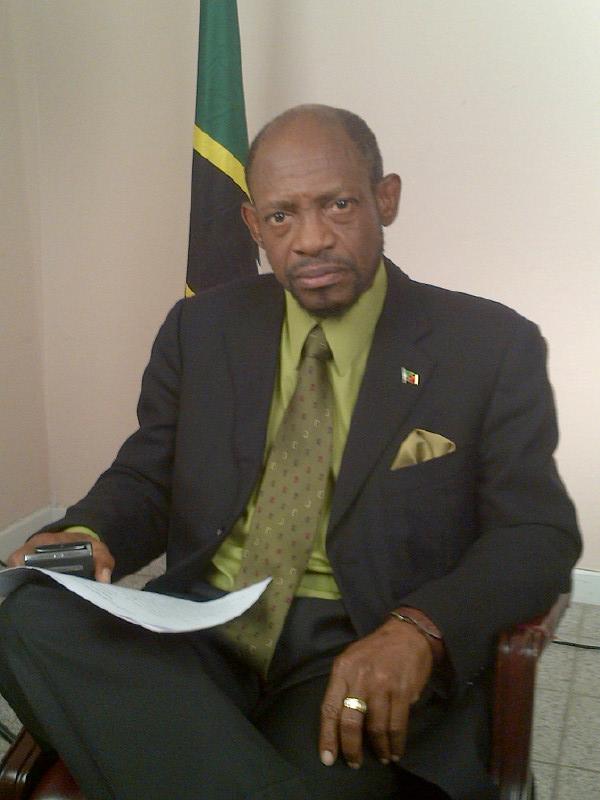 Photo: St. Kitts and Nevis' Prime Minister the Rt. Hon. Dr. Denzil L. Douglas making the announcment following the High Court's ruling. (Photo by Erasmus Williams)
St. Kitts and Nevis' Prime Minister the Rt. Hon. Dr. Denzil L. Douglas Thursday night announced the resignation of one of his senator/ministers to facilitate the re-appointment of the Hon. Jason Hamilton as Attorney General.
Dr. Douglas made the announcement following a ruling by a High Court Judge Thursday morning that Mr. Hamilton, who was first sworn in as Attorney General late January, should have been made a senator before the appointment.
"It is important to note that having four Senators, one of whom is Attorney General, is completely legal under our Constitution. Today, however, the Courts ruled that – procedurally, and I stress, procedurally – Mr. Hamilton should have, first, been named a Senator, and then be appointed Attorney General," said Dr. Douglas in a radio and television broadcast.
The Prime Minister said his Government aims at all times to adhere to the rules and guidelines of the Constitution, and so, following the Court's ruling, moved, without delay, to ensure that the process via which Mr. Hamilton was named Senator and Attorney General was corrected.
"Under our Constitution, the Federation of St. Kitts and Nevis must have an Attorney General. In order for Mr. Hamilton to properly serve in this capacity, therefore, he was today (Thursday) named a Senator in the National Assembly of St. Kitts and Nevis, the Honorable Nigel Carty having resigned as Senator in order to make this possible. In response to the points raised in today's Court ruling, Senator Hamilton was then appointed our nation's 5th post Independence Attorney General," said Prime Minister Douglas.
He said this procedural requirement having been respected, and in full compliance with the Constitution, the Honorable Nigel Carty will then be reappointed as a Senator in the National Assembly of St. Kitts and Nevis, thereby making it possible for him to resume his responsibilities to the state in his capacity as Minister of Education and Information, Agriculture, Marine Resources and Cooperatives.
"Today's Court ruling gave our Government the opportunity to ensure full compliance with the procedural requirements of our Constitution. This we welcomed, and on this, we have acted," Dr. Douglas said.
He however disclosed that Government has decided to appeal the Court's ruling based on the interpretation of Section 26 (2) of the Constitution which does not speak to a procedure, and given that there has been another interpretation of the Section in the past, when there were the appointments of His Excellency Delano Bart, QC and Dr Dennis Merchant as Senators and Attorneys General.
"On the present Court ruling, it is now being suggested that when His Excellency Delano Bart resigned as Senator and Attorney General in 2006, in order to have appointed Dr. Dennis Merchant as a Senator and Attorney General, another Senator/Minister would have had to resign at the same time, in order to make the appointment. This was not done and no one either inside or outside of government ever hinted that such a maneuver was either required or necessary," Prime Minister Douglas pointed out.
He said the Government at the moment was still awaiting advice from the Legal Team on the clarification on the Senators (Increase of Number) Act 2013 as earlier there appeared to be some confusion on whether the Judgment declared that the Act is unconstitutional and/or invalid as being in contradiction of Sections 26 and 41of the Constitution.
"We believe that this is a matter of immense public importance," said Dr. Douglas.
He reiterated that the priority of his government at this moment is the pursuance of the Government's Parliamentary Agenda in support of the improved quality of life of the citizens of St Kitts and Nevis and the consolidation of the principles of good governance on which our democracy is grounded.