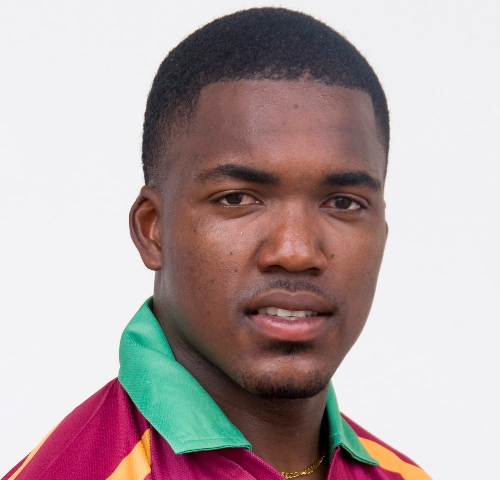 St George's Grenada – Darren Bravo put on a batting master class to record his maiden century in One-Day Internationals which spurred West Indies to a commanding victory over Zimbabwe on Friday. The stylish left-hander made 100 not out – reaching the coveted milestone off the final ball of the innings – as the West Indies posted a huge score of 337-4.
The homeside then restricted the visitors to just 181-9 to win by 156 runs, marking their return to the Grenada National Stadium for the first time since 2009 in grand style.
Bravo was dominant as he added 80 for the second wicket with Johnson Charles, who cracked a brilliant 130 off 111 balls. It was Bravo's fifth international century overall, adding to the four he has scored in Test cricket. His previous highest score in One-Day cricket was 86 – made against India at Sabina Park, Jamaica in two years ago and equalled against Australia at Manuka Oval in Canberra two weeks ago.
"A first century in a winning cause is a great feeling. The hard work is paying off and the aim is to continue and get more big scores. I have focused on batting through the innings and taking it down to the end. I knew I had enough time and once I batted through the innings something special would happen. Today, it worked really well for me and I will be looking to press on in the second match on Sunday," Bravo said after the match.
The 24-year-old started his innings slowly but picked up momentum in the final ten overs, reaching his century off just 71 balls with nine fours and four sixes. Going into the final over he needed eight runs to reach the landmark, and got there off the last ball.
"I never panicked. I soaked up a lot of balls at the start of the innings as I tried to get myself in. Johnno [Johnson Charles] was going great guns so my role was just to support him and turn over the strike, as it was a right-hand/left-hand combination. I knew that once I got in I could pick it up at the back end and that is what happened. The batting powerplay was just around the corner so it was just a matter of playing it smart. It was good pitch and the ball wasn't doing much so I just had to make sure I kept my shape and play to my strong areas," Bravo added.
"It was one of those very good days when we got it all right in all three departments – batting, bowling and fielding. As batsmen we knew we had to give the team a good foundation and we managed to do just that. The bowlers finished the job, backed up by some very good catches in the outfield."
TOUR SCHEDULE
Fri, Feb 22: 1st ODI – West Indies won by 156 runs at Grenada National Stadium, Grenada
Sun, Feb 24: 2nd One-Day International – Grenada National Stadium, Grenada
Tue, Feb 26: 3rd One-Day International – Grenada National Stadium, Grenada
Sat, Mar 2: 1st Twenty20 International – Vivian Richards Cricket Ground, Antigua
Sun, Mar 3: 2nd Twenty20 International – Vivian Richards Cricket Ground, Antigua
Thu, Mar 7 to Sat, Mar 9: Tour match – Windward Sports Club, Barbados
Tue, Mar 12 to Sat, Mar 16: 1st Test – Kensington Oval, Barbados
Wed, Mar 20 to Sun, Mar 24: 2nd Test – Windsor Park, Dominica