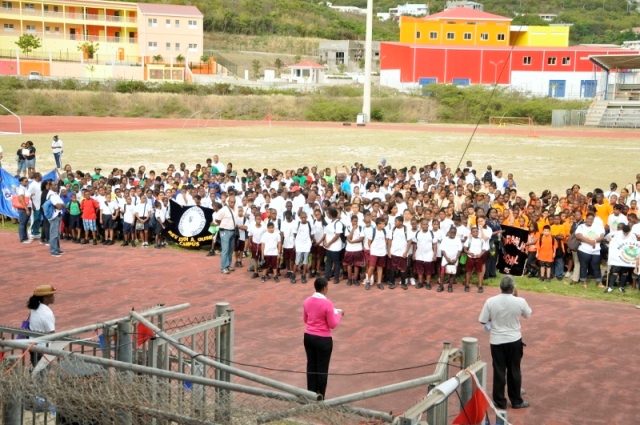 PHOTO CUTLINE: Minister Hon. Silveria Jacobs addressing young athletes as she declares open the National Interscholastic Olympiad. DCOMM Photo
Minister of Education, Culture, Youth and Sports Sports Hon. Silveria Jacobs opened the first ever National Primary & Secondary Interscholastic Olympiad on Monday February 18th 2012 organized by the Ministry of Sports.
The goal of the Olympiad is to increase the number of sports participants through the country and to use sports as a tool to promote social wellbeing and excellence.
February 18th through 20th is the Olympiad for primary school Cycle 2 students. February 25th through 27th is the Olympiad for the Secondary schools.
The Olympiad is a pilot project geared towards structural annual scholastic sport exchanges. It is the intention that this Olympiad becomes a yearly program held at the end of February.
During this inaugural year the event presented seven sports i.e. Baseball, Softball, Basketball, Volleyball, Swimming, Track & Field and Soccer.
The Olympiad will utilize the various sports venues around the island, making it a true sporting experience.
Locations that will be utilized for the Olympiad and the sports that will be hosted are:
Raoul Illidge Sports Complex – Soccer and Track & Field
Jose Lake Ball Park – Baseball
L.B. Scott Auditorium – Basketball
Melford Hazel Sport Facility – Volleyball
Little League Sports Complex – Softball
Belair Health & fitness Club – Swimming
Minister Jacobs commended the participants and the supporters for coming out in such great numbers. Participating schools are Methodist Agogic Center, Marie Genevieve de Weever School, Ruby Labega, CIA, Learning Unlimited, Leonald Conner School, St. Dominic Primary, Oranje School, Hillside Christian Schools, Sr. Regina Primary school, Sr. Magda Primary, Dr. Martin Luther King Jr. School, Charles Leopold Bell School.
The Minister expressed her desire to see the children embrace and further develop their sense of sportsmanship and camaraderie. To further encourage that she invited the young athletes to recite the Sportsman's Creed where after the Olympiad was officially opened.
The Minister briefly attended two sports events, Volleyball and Baseball, at their respective locations. The Olympiad will continue till Wednesday at the various locations. Registration for secondary schools is still ongoing.