On Mangrove Replanting and Beach Cleaning in Preparation for Turtle Nesting Season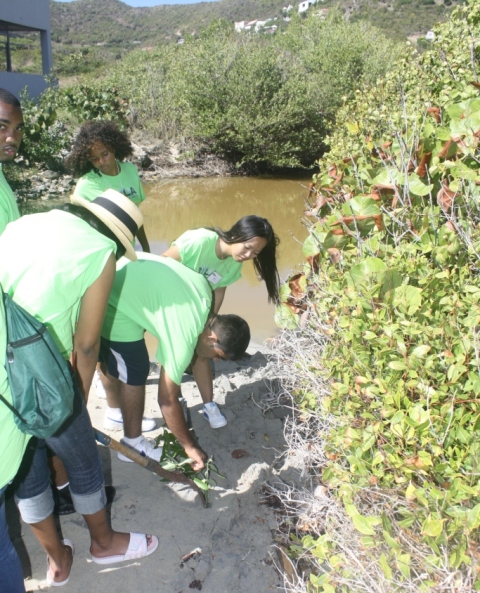 Some thirty students from around the Caribbean region partnered with the St. Maarten Nature Foundation in a cleanup and mangrove transplanting initiative on Guana Bay and Gibb's Bay last Friday.
The students, part of the Rotary District 7020 RYLA Conference held on St. Maarten from the 14th to the 17th of February, were given an explanation on the importance of the Mangrove ecosystems at Red Pond and the importance of keeping the beaches of Guana Bay and Gibbs Bay clean for Sea Turtle Nesting Season, which will start at the end of this month.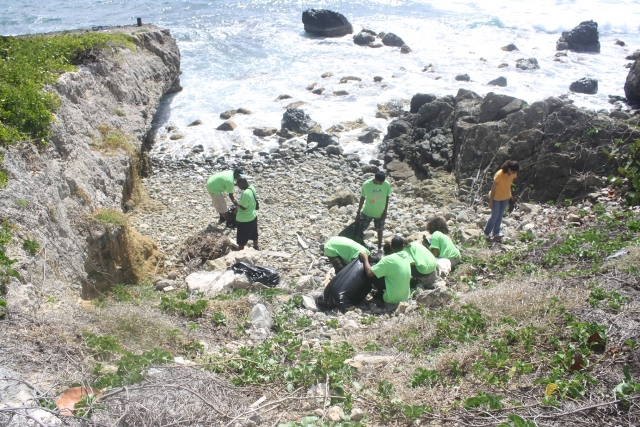 Some thirty young mangroves were planted at Red Pond and thirty bags of garbage were collected with everything ranging from plastic to rope and other larger materials. "We were very happy to have these enthusiastic and driven youngsters assist us with this important activity; firstly because mangrove ecosystems are very important nursery areas and environmental filters and secondly in keeping the beaches clean of garbage and waste. A lot of attention is given to the other beaches and wetlands on the island and it sometimes seems as if we have forgotten Red Pond, Gibbs Bay and Guana Bay. With the planting of the mangroves and the cleaning up of the beaches and rocky cliff sides these students have greatly contributed to both the health of the beach and marine ecosystem and the success of the 2013 Sea Turtle Nesting Season," read a Nature Foundation statement.