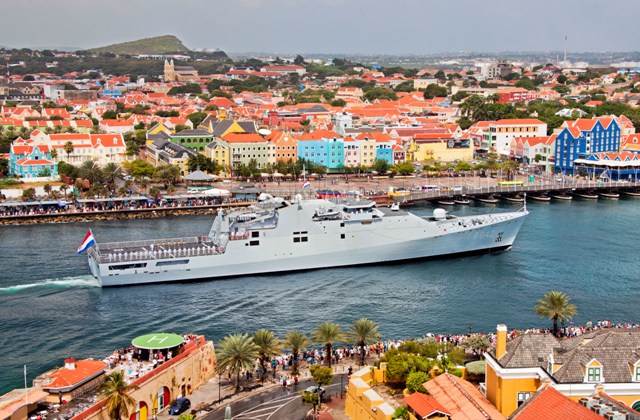 Several hundred people were today witnessed a special maritime premiere: for the first time the brand new navy ship HNLMS Friesland, ceremonial welcome in the harbor of Willemstad, Curacao.
Under the firing of cannon enter the patrol vessel majestically into the harbor, while many people the spectacle with their cameras firmly laid. The Commander Navy Caribbean, the armed guard of the Curaçao Militia and Defence Staff present gave the salutations while Piper of the Marine Corps, the whole musical supported. "An impressive event. I'm glad I've seen it once, "was the spontaneous reaction of one of the spectators.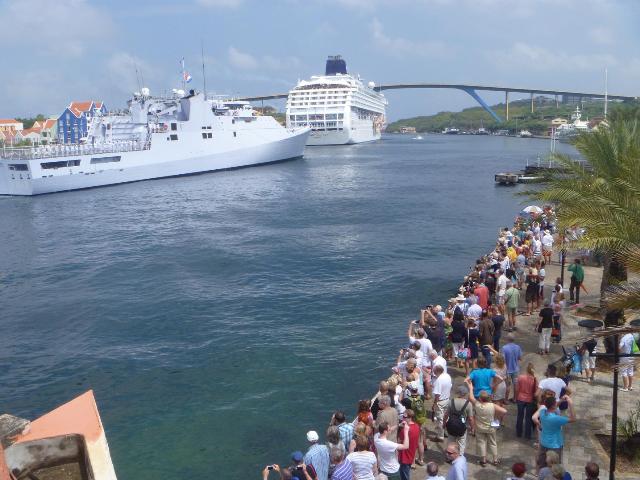 525 years Marine
The ceremonial entry was this time additional value by another historical fact. In 2013 the Royal Navy celebrates its 525 anniversary. The theme of this celebration is innovation, which in the Caribbean with the arrival of the latest naval vessel even more stressed.
Worldwide compatibility
From now begins the first broadcast of HNLMS Friesland in late January by Minister Hennis-Plasschaert officially placed in service. The 108-meter long ship, one of four new Ocean Going Patrol Vessels from Holland class, is used worldwide for various tasks: coastguard tasks, disaster relief, anti-drug operations to combat piracy. The Friesland serves the next four months in the Caribbean as a station ship for the Royal Navy and the Coast Guard Caribbean.
Jobs in Caribbean
The ship and crew are ready. She went on the journey an intensive work-up, among other things, be well prepared for the tasks in the field of humanitarian aid. The patrol ship is also well-equipped to combat illegal practices at sea. To counter drugs matters outside the territorial waters gets Friesland authorized 'Law Enforcement Detachment (LEDET) of the U.S. Coast Guard on board. For operations within the territorial waters, a Coast Guard boarding team boarded. A team secures Marines during the ship boardings and staff.
FRISC and Alouette helicopter
The crew consists of 55 people, but can be extended with specialists to a maximum of 90 cups. The Friesland has a 2 speed vessels of the type FRISC and is equipped with a Belgian Alouette helicopter. The Alouette decreased due to severe weather at sea damage to the tail, but is now at Coast Guard Base Hato repaired. It is expected that the board helicopter departing on Thursday again operational potential.