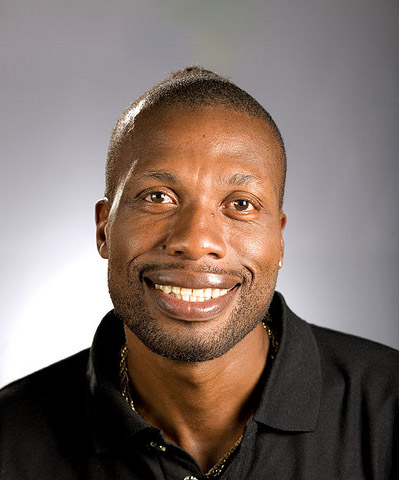 St John's, Antigua – Starting on Tuesday, January 15, legendary former West Indies, Leeward Islands and Antiguan fast bowler Curtly Ambrose will join the Windies Cricket Radio commentary panel for the St Lucia leg of the Caribbean Twenty20.
All 13 games played at the Queen's Park Oval in Trinidad were broadcast around the Caribbean live from the venue under the West Indies Cricket Board's 'Windies Cricket Radio' brand.
"The Windies Cricket Radio commentary is a full WICB production to promote and spread the game. The broadcast is funded in its entirety by the WICB and is provided to stations around the region at no cost to them," explained WICB Corporate Communications Officer Imran Khan.
Khan commented: "Live ball-by-ball radio is critical in not only keeping fans across the region informed with the latest scores and updates but also aids in promoting the game and the WICB has made a strong commitment to ensuring that fans are able to follow the Caribbean T20 games on their radios and online."
Leading regional cricket commentator Andrew Mason is leading the commentary panel.
Mason is joined by Fazeer Mohammed and other commentators. Ambrose, who is also the Combined Campuses and Colleges Bowling Consultant will be supported by former Trinidad and Tobago captain and West Indies batsman Daren Ganga and former Barbadian and West Indies fast bowler Wayne Daniel.
Daniel's countryman, Philo Wallace, former Trinidadian and West Indies fast bowler Anthony Gray and Jamaica, Trinidad and Tobago and West Indies batsman Ricardo Powell analysed the games in Trinidad.
Veteran cricket broadcaster Joseph 'Reds' Perreira is adding colour and variety to the Windies Cricket Radio broadcast with wide-ranging interviews with various cricket officials and notable persons.
WICB Senior Communications Officer Adriel Richard, who is a seasoned radio producer, has been leading the production of the high quality broadcast.
"While it is a significant investment to produce the broadcast, it is a worthy one as there are still legions of fans who enjoy and even prefer radio commentary as they enjoy the nostalgia of it and the unique entertainment of the radio medium," Richard noted.
The tournament moves to the Beausejour Cricket Ground in St Lucia and will resume on Tuesday January 15th with Guyana facing Jamaica at 4pm and reigning champions Trinidad and Tobago taking on home side Windward Islands at 8pm. Fans are advised to check their local listings for stations which will be carrying the broadcast. The Caribbean Super Station which is heard in Trinidad and Tobago, Barbados and throughout the Caribbean is broadcasting all matches.
A total of 12 matches will be played in St Lucia, including two Twenty20 Internationals between West Indies Women and South Africa Women. Both matches will also be broadcast by Windies Cricket Radio.