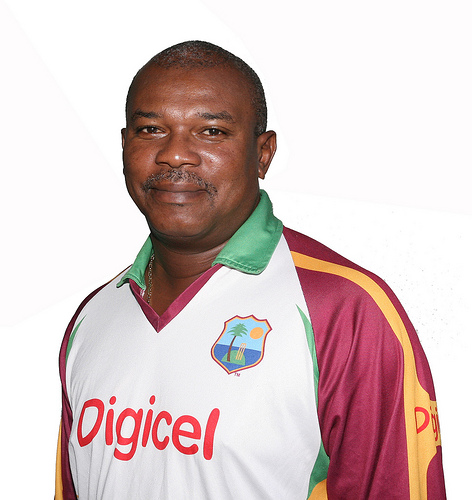 Beausejour, St Lucia – West Indies A Team Head Coach Hendy Springer continues to be impressed with his fast bowling charge Andre Russell as the Digicel Series between the regional reserves and Bangaldesh A continues.
"He has bowled really well in this match and in fact I think he should have gotten ten wickets in the match and not nine," Springer commented at the end of the third day's play of the Second Digicel Test at the Beausejour Cricket Ground.
"In the first innings after he got four wickets he began to get a bit impatient so he did not get that fifth wicket but he returned and bowled really well in the second innings to get five," said Springer, the former Barbados off spinner, of the Jamaican and West Indies limited overs all rounder who finished with 5 for 36 in the second innings to follow his 4 for 24 in the first innings.
Summarised scores: Bangladesh A 155 (Farhad Reza 39 not out, Shohag Gazi 30, Shuvagata Hom 24, Mominul Haque 20; Andre Russell 4-24, Nelon Pascal 4-60) and 187 (Sohrawardi Shuvo 29 not out, Nasir Hossain 29, Roqibul Hasan 28, Mithun Ali 26, Jahurul Islam 25,; Andre Russell 5-36, Veerasammy Permaul 2-17)
West Indies A 129 (Sunil Narine 40 not out, Rajendra Chandrika 40; Farhad Reza 3-37, Sohrawardi Shuvo 3-43, Shohag Gazi 2-23) and 139 for three (Danza Hyatt 52 not out, Jonathan Carter 45 not out)
West Indies A, needing 214 to win are 75 runs away from their target with seven wickets in hand.
Springer believes that his team is ideally poised to complete the victory on the final day of the Digicel Test.
"What I did was to ask the top four batsmen to take greater responsibility to see the team through and we took the momentum we got while bowling and transferred that to the batting," Springer explained.
Springer credited his bowlers for the commanding position in which the team is in at the close of day three after the Windies A faltered to 129 in response to Bangladesh A's first innings score of 155.
The long time Windies A coach also praised the Beausejour pitch saying that while it looked "brown" it was "firmer" than he had known it to be and that the "bounce and carry" were good for the fast bowlers.