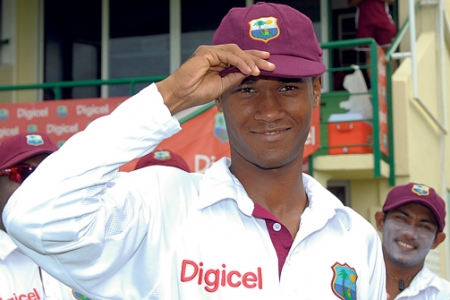 Kolkata, India — Kraigg Barthwaite flashed the biggest smile you would ever see when he took the "big" wicket of Rahul Dravid close to the end of the first day of the second Test match at Eden Gardens.
In a surprise move, skipper Darren Sammy called on the teenager to twirl his flat off-breaks at Dravid and Brathwaite responded with the prized scalp of the champion right-hander. Dravid was playing well on 119 – his 36th Test century – when he tried to force a ball on off stump and chopped it into his stumps to present Brathwaite with his first Test wicket.
India ended the day on 346-5 with Dravid and nightwatchman Ishant Sharma falling in the space of four balls before bad light caused an early finish.
Brathwaite relived the moment: "I kept telling the captain that I was available … that if he wanted I was there to have a bowl. He kept telling me to warm up and stay warm so when he tossed the ball to me I was ready.
"I tried to push through a few balls at him (Dravid), but for this one I decided it would be a bit slower and I would give it some air. When I noticed that he went back to force it I got excited and when it hit the stumps I was delighted. It felt really good to get such a 'big' wicket when the team needed it.
"I was happy and the smile came out. Everybody was happy for me and you could tell from the way we celebrated that we were quite happy to get Dravid at that stage. He was playing well with Laxman and we needed to break that partnership. "
Brathwaite added: "The fact that it was a player of the calibre of Dravid, it means so much more. The team needed me and I was able to do the job and that is what my main goal is as a player, to always put the team first and do what is required for the team."
Dravid, the 38-year-old veteran who is playing in his 159th Test match, was approaching 13,000 Test runs when he fell to the teenager, who was just three years old when Dravid made his debut for India back in 1996.
Brathwaite, who made his Test debut in May against Pakistan in St Kitts, has been working to develop his off-spin bowling.
"I always try to bowl a few balls in the nets and I have been getting a lot of advice from the coach about bowling. I'm a batsman but it's good to be good in other areas of your game as well."
He added: "I'm happy to get a wicket, but as a batsman, what I really want is a Test hundred. That's my goal … to get my first Test hundred."