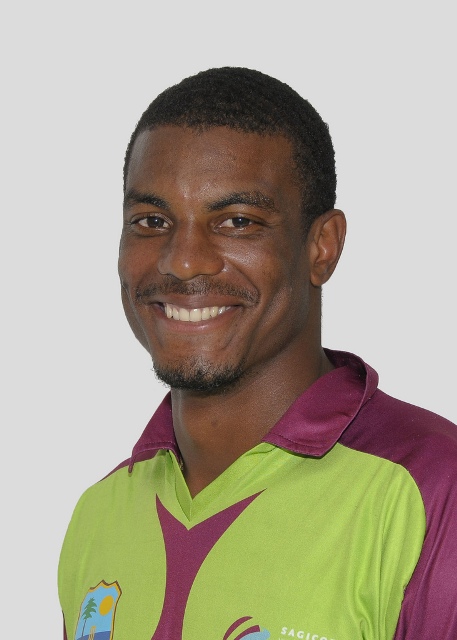 St John's, Antigua – Exciting fast bowler Shannon Gabriel is one of a few Trinidadian players who have found it challenging to command a place in their national team but who have been making strides further afield.
All rounder Imran Khan is not a member of the regular Trinidad and Tobago limited overs teams but has played for the West Indies A Team. Off spinner Sunil Narine has played only two First Class matches for T&T but he has been called up to the West Indies A 'Test' Team.
Gabriel, a graduate of the Sagicor High Performance Centre is looking to use his Windies A selection to push his career forward. The strapping 23 year old debuted in First Class cricket for T&T in early 2010 and has been making steady progress since.
"I just want to get on the field and put in good performances consistently and address the selectors," Gabriel said.
And by 'selectors' he means both the West Indies and Trinidad and Tobago selectors.
"I want to do my part and leave the selectors to do their work, I have as my goal to play for the West Indies but I also want to cement my place in the Trinidad team when the 'big players' are available," Gabriel explained.
He believes that his time at the Sagicor HPC has helped his cricket leaps and bounds.
"The HPC has helped with my all round cricket, I have improved mentally as a cricketer and it has made me a better person on and off the field," Gabriel revealed.
"In terms of on the field I have learnt to be more consistent in my bowling, I am much fitter and I have more knowledge about the game," explained the powerful paceman who trades in raw and fearsome pace.
He is not surprised by what some consider a rapid rise through the ranks.
"I've put in the hard work over the past two years and I am hoping to carry on step by step so that I am ready to take any opportunities which come my way," Gabriel said.
When asked about making the West Indies senior team Gabriel said it is the ultimate goal but he is not obsessing over it.
"I'm not thinking about it, I want to go out and take it each game at a time so that when that opportunity comes I will be ready. What is important for me at this stage is to keep improving my all round cricket," Gabriel said.
West Indies A squad for First Digicel 'Test'
Veerasammy Permaul – Captain
Nkrumah Bonner
Carlos Brathwaite
Jonathan Carter
Rajendra Chandrika
Kyle Corbin
Shannon Gabriel
Sunil Narine
Nelon Pascal
Danza Hyatt
Andre Russell
Devon Thomas
Team Management
Head Coach – Hendy Springer
Assistant Coach – Stuart Williams
Team Manager – Colin Borde
Physiotherapist – Dr. Jacqui King-Mowatt
Strength and Conditioning Coach – Shannon Lashley
Bangladesh A Squad
Jahirul Islam (Captain)
Mohammed Mithun (Vice Captain)
Zunaed Siddique
Roqibul Hassan
Robiul Islam
Mohammed Sohrawordi
Shuvagata Hom Chowdhury
Nasir Hossain
Nasir Uddin
Faruque
Kamrul Islam Rabbi
Mominul Hoque
Nur Hossain
Shohag Gazi
Alauddin Babu
West Indies A v Bangladesh A Tour Schedule (with match officials appointments)
Nov 5 – 8 – 1st Digicel 'Test' – Sir Vivian Richards Cricket Grounds
Match Referee: Vanroy Burnes
Standing Umpires: Luther Kelly and Clancy Mack
Stand by Umpires: Bernard Joseph
Nov 12 – 15 – 2nd Digicel 'Test' – Beausejour Cricket Grounds
Match Referee: Patrick Felix
Standing Umpires: Clancy Mack and Nigel Duguid
Standby Umpire: Maurice Francis
Nov 18 – 1st Digicel T20– Beausejour Cricket Ground
Match Referee: Patrick Felix
Standing Umpires: Clancy Mack and Nigel Duguid
Standby Umpire: Maurice Francis
Nov 19 – 2nd Digicel T20 – Beausejour Cricket Ground
Match Referee: Patrick Felix
Standing Umpires: Clancy Mack and Nigel Duguid
Standby Umpire: Maurice Francis
Nov 23 – 1st Digicel One Day – Arnos Vale Cricket Ground
Match Referee: Selwyn Allen
Standing Umpires: Nigel Duguid and Vincent Bullen
Standby Umpire: Goaland Greaves
Nov 25 – 2nd Digicel One Day – Arnos Vale Cricket Ground
Match Referee: Selwyn Allen
Standing Umpires: Nigel Duguid and Vincent Bullen
Standby Umpire: Goaland Greaves
Nov 27 – 3rd One Day – Arnos Vale Cricket Ground
Match Referee: Selwyn Allen
Standing Umpires: Nigel Duguid and Vincent Bullen
Standby Umpire: Goaland Greaves