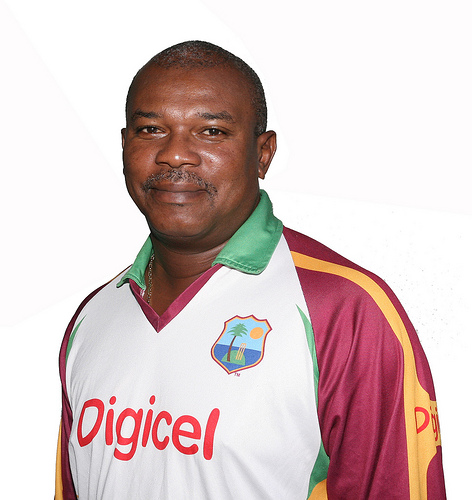 St John's, Antigua – Head Coach of the West Indies A Team, Hendy Springer said that the Digicel Series between Windies A and Bangladesh A will present major opportunities for the top performers to move into the West Indies team.
"We saw from the last time West Indies A played against Bangladesh A a number of players including Darren Bravo, Nelon Pascal and Shane Shillingford going on to play for the West Indies," Springer said shortly after the Windies A first training session at the Sir Vivian Richards Cricket Grounds Thursday morning.
The Barbadian, who is also the Barbados Cricket Association Director of Cricket, thinks that performances for the West Indies A Team give the selectors a good indication of whether players are ready to move to the next level.
"Being a part of this A Team is an opportunity for players to keep their names in the minds of the selectors and put in the performances which will help them to move on to the senior side," Springer outlined.
Windies A face their Asian counterpart in the first of two Digicel Tests starting on Saturday at the Sir Vivian Richards Cricket Grounds.
"The A Team programme also has an internal scouting component to it as well because what it also allows for is to identify some players who might need to be included in the next batch of the Sagicor High Performance Centre for further work on their development," Springer explained.
Springer who has been the West Indies A Head Coach since 2006 said that the current team is a good combination of players with solid international experience, players who are looking to re-establish themselves at that level and players who have been rewarded for doing well at the regional level.
"It is a good mix of guys who have come to the A Team from different paths but who have a common goal," Springer said.
Turning his attention to strategy Springer said that both teams are likely to rely heavily on spin.
"The pitch here at SVRCG appears to be on the slow side so I believe that spin will play a major role in the bowling attacks of both sides," Springer projected.
He said that the statistics from regional cricket will show that West Indian batsmen have gotten out to spin bowling more than faster bowling. However he believes that it is not that the West Indian batsmen lack competence to play spin but more an issue of their approach.
"There is a lot of spin which is bowled during our regional tournaments and the spinners get a lot of wickets but it is not that the batsmen cannot play spin per se, it is more of their approach to playing spin,"
"They get impatient and look to take more risk than they should against the spinners after being bogged down for some time so it is the attitude which lets them down," assessed Springer.
West Indies A squad for First Digicel 'Test'
Dwayne Bravo – Captain
Nkrumah Bonner
Carlos Brathwaite
Jonathan Carter
Rajendra Chandrika
Kyle Corbin
Shannon Gabriel
Sunil Narine
Nelon Pascal
Veerasammy Permaul
Danza Hyatt
Andre Russell
Devon Thomas
Team Management
Head Coach – Hendy Springer
Assistant Coach – Stuart Williams
Team Manager – Colin Borde
Physiotherapist – Dr. Jacqui King-Mowatt
Strength and Conditioning Coach – Shannon Lashley
Bangladesh A Squad
Jahirul Islam (Captain)
Mohammed Mithun (Vice Captain)
Zunaed Siddique
Roqibul Hassan
Robiul Islam
Mohammed Sohrawordi
Shuvagata Hom Chowdhury
Nasir Hossain
Nasir Uddin
Faruque
Kamrul Islam Rabbi
Mominul Hoque
Nur Hossain
Shohag Gazi
Alauddin Babu
West Indies A v Bangladesh A Tour Schedule (with match officials appointments)
Nov 5 – 8 – 1st Digicel 'Test' – Sir Vivian Richards Cricket Grounds
Match Referee: Vanroy Burnes
Standing Umpires: Luther Kelly and Clancy Mack
Stand by Umpires: Bernard Joseph
Nov 12 – 15 – 2nd Digicel 'Test' – Beausejour Cricket Grounds
Match Referee: Patrick Felix
Standing Umpires: Clancy Mack and Nigel Duguid
Standby Umpire: Maurice Francis
Nov 18 – 1st Digicel T20– Beausejour Cricket Ground
Match Referee: Patrick Felix
Standing Umpires: Clancy Mack and Nigel Duguid
Standby Umpire: Maurice Francis
Nov 19 – 2nd Digicel T20 – Beausejour Cricket Ground
Match Referee: Patrick Felix
Standing Umpires: Clancy Mack and Nigel Duguid
Standby Umpire: Maurice Francis
Nov 23 – 1st Digicel One Day – Arnos Vale Cricket Ground
Match Referee: Selwyn Allen
Standing Umpires: Nigel Duguid and Vincent Bullen
Standby Umpire: Goaland Greaves
Nov 25 – 2nd Digicel One Day – Arnos Vale Cricket Ground
Match Referee: Selwyn Allen
Standing Umpires: Nigel Duguid and Vincent Bullen
Standby Umpire: Goaland Greaves
Nov 27 – 3rd One Day – Arnos Vale Cricket Ground
Match Referee: Selwyn Allen
Standing Umpires: Nigel Duguid and Vincent Bullen
Standby Umpire: Goaland Greaves