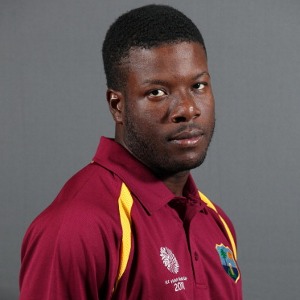 Dhaka, Bangladesh — Kirk Edwards has made a dream entry into Test cricket with two high-class centuries in his first five innings at the highest level. On Sunday, the tall right-hander made a well-crafted 121 with 14 fours and two sixes off 273 balls. It came in six hours of batting to follow up the equally well-compiled 110 off 195 balls against India on debut in Dominica in July.
Playing well on both sides of the wicket he held the innings together as the Windies reached 355 in the first innings on the second day of the second Test at the Sher-e-Bangla International Cricket Stadium. They then reduced Bangladesh 204-7, with fast bowler Fidel Edwards taking 5-59 – his 11th five-wicket haul in his 48th Test match. He now has 148 Test wickets.
The two Edwards are not related, but live just five miles apart from each other in the parish of St Peter in Barbados. Speaking after his excellent batting Kirk was clear in his mind what the mission was and what he set out to achieve.
"I have not been here (international cricket) for long but it is clear that to be successful you have to be mentally strong. I really don't have too many innings to rate it against but the key was that my mind stood up well in this innings. I knew I had to be patient and do what the team required. I was able to pace my innings well and bat time. I went in after a very good opening partnership (100 between Kieran Powell and Kraigg Brathwaite) so I had a good platform. My job was to carry on and build a big score. I'm quite happy with the way I played but I would have liked to have gone on and get a few more runs for the team," said Kirk, who celebrates his 27th birthday later this week.
He ended the first day on 71 and outlined how he went about his batting on the second day. According to him, the pitch changed a bit and he had to be particularly watchful against fast bowler Rubel Hossain, who worked up some pace in a one-hour spell, and left-arm spinner Shakid Al Hasan, who took five wickets.
"Rubel was getting a few balls to come through faster than he did on the opening day. On the first day we saw a bit of tennis ball bounce but today the ball was sliding on a bit more and you had to be watchful. I left home knowing that Sahkib could be a handful. He is a really good spinner and posed a strong challenge. You have to be at your best against him, especially on these surfaces. When we bowled we saw the ball sliding on as well and we did well with the new ball. We still need to bowl them out. We need to push on from here and look to take the match and this series."
Kirk might have two centuries now in five trips to the crease, but he was quick to point out how challenging it is to play at the highest level.
"Easy? Test cricket? There is nothing easy about Test cricket. It's the real test. This is the big leagues…you have to fight for your runs, you have to work extra hard. There is a lot of work to be done long before you take the field and a lot of planning. Nothing comes easy in Test cricket."