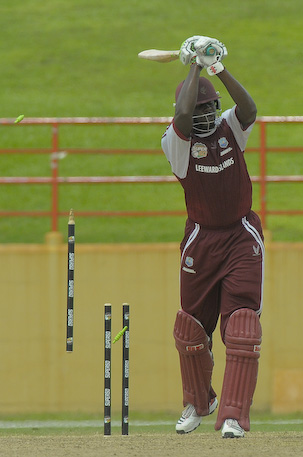 Georgetown, Guyana – Jamaica's crushing victory over the Leeward Islands pushed their partner club – Skeldon Cricket Club – to the top of the money pile in the WICB Super Club Assistance Programme which is part of the on-going Regional Super50.
The Jamaican batsmen blasted six sixes and captured four wickets via the bowled route to give Skeldon CC a total of GY$200,000 (US$1000) from the game.
Each time a team wins a match the WICB will give that team's partner club GY$100,000 (GY$500) as part of its outreach to help cricket clubs to execute their development programmes.
Every six and every bowled wicket is worth GY$10,000 (US$50) for each partner club.
The Combined Campuses and Colleges upset win over powerhouse Trinidad and Tobago will add GY$130,000 to the Zeeburg Cricket Club coffers. Gandhi Youth Organization which is paired with Guyana also have GY$130,000 in their account.
Bayrock Sports Club which is paired with Barbados is yet to open their account. Barbados' opening round match v Sagicor HPC was abandoned as a result of rain.
Money standings
Skeldon Cricket Club (Jamaica) – $200,000
Gandhi Youth Organization (Guyana) – $130,000
Zeeburg Cricket Club (CCC) – $130,000
South Essequibo Cricket Club (Leeward Islands) – $40,000
McGill Cricket Club (Trinidad and Tobago) – $30,000
Enterprise Cricket Club (Sagicor HPC) – $10,000
Blairmont Community Centre (Windward Islands – $10,000
Bayrock Sports Club (Barbados) – $0