The St. Maarten Little League National Junior League Team and delegation consisting of players, coaching staff, umpire and parents arrived home on Monday night to the welcome applause and greetings of congratulations from family members, well wishers and representatives of the St. Maarten Little League. Also on hand to welcome the players were members of the organization The Voice of Our Children.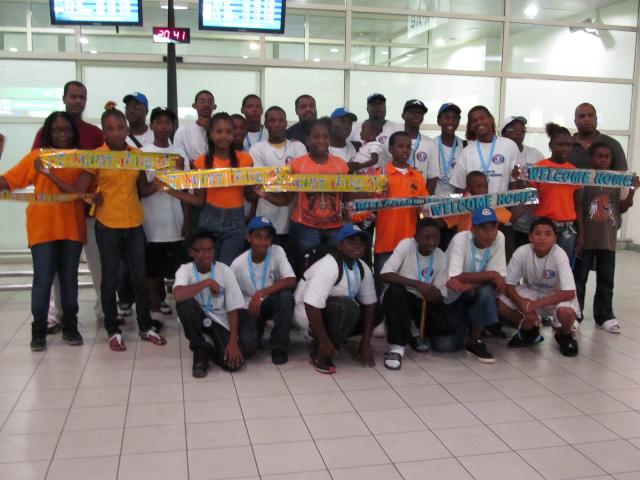 The players and delegates were very excited as they returned from competing in the recently held Latin America and Caribbean Junior League championship in Abaco Bahamas in which 10 teams took part. St. Maarten went 2-2, which the lost of the 4th game, squeezed the team out of advancing to the semi-finals. The players performed exceedingly well and must be commended.
The St. Maarten Little League Association says a mighty thank you to the players and congratulates them on their outstanding performance. You worked hard and it paid off. Thank you also goes out to the Manager and Coach Alvin "Angie" Daniel and Sidonie Gibs and the trainers Kevin Olivaccee and Shirnon Trinidad as well as all other coaches who contributed to the success of the team.
Thank you also to Mr. Gal Patterson a former St. Maarten Little Leaguer, Son of Ms Irene Carty for facilitating the transfers and overnight stay in Miami.
Thank You to all the Sponsors and Supporters of the St. Maarten Little League, especially to Parents, Help Our Children Foundation, Travel Planners, Prinses Juliana International Airport whose contribution made this trip possible.