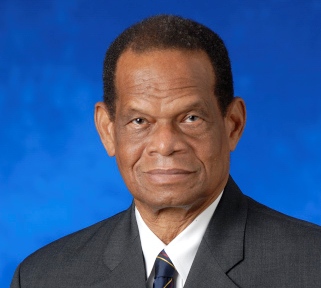 St John's, Antigua – On the eve of the historic 10th edition of the International Cricket Council's Cricket World Cup, the West Indies Cricket Board, has sent best wishes to the West Indies team as they prepare to participate in the event.
Speaking on Saturday, Dr Julian Hunte, President of the WICB urged the Windies to "go for the glory" and also called on cricket-loving fans across the region to "rally round the West Indies".
"The ICC Cricket World Cup 2011 promises to be the biggest cricket event ever and the entire cricket world is eagerly looking forward to what is in store. We expect to see a celebration of what is great about the game of cricket and the stage is set for six weeks of excitement. I have all confidence the West Indies team will do very well at this tournament," Dr Hunte said.
Speaking to the team he added: "It will not be easy. The road to the top is never an easy trod, nor is it meant to be, but once you are willing to fight and give your all it can be pursued and attained. I urge you to go beyond the call of duty – to dive for every catch, to throw yourself after every ball in the outfield, to bowl with discipline and purpose, to show total commitment at the crease and be guided by the team plan."
Dr Hunte added: "The West Indies team has a rich history in the ICC Cricket World Cup. We were kings in 1975 and 1979, under the leadership of Clive Lloyd; we reached the final in 1983; and narrowly lost at the semi-final stage in 1996. The 2011 event is the right time to add to the list of wonderful achievements and bring smiles back to the faces our wonderful and unwavering fans. I also urge the people across the Caribbean and those around the world to 'rally round the West Indies'. Support is vital and even more so at such a major event. It lifts the team."
The ICC Cricket World Cup opened with a spectacular ceremony at the Bangabandhu National Stadium in Dhaka on Thursday night followed by the opening game between India and Bangladesh.
The West Indies have been drawn in Group B alongside Bangladesh, India, England, South Africa, the Netherlands and Ireland.
They arrived in Delhi on Thursday evening and will play their first match against South Africa against South Africa at the Feroz Shah Kotla Stadium on Thursday, February 24. They then face the Netherlands (February 28, Delhi), Bangladesh (March 4, Dhaka), Ireland (March 11, Mohali), England (March 17, Chennai), and India (March 20, Chennai).
Windies fans can download a wide variety of 'Rally!' graphics for their Facebook, Twitter, MSN, Yahoo!, Blackberry and other messengers profile photos here: http://ow.ly/3ZFiE