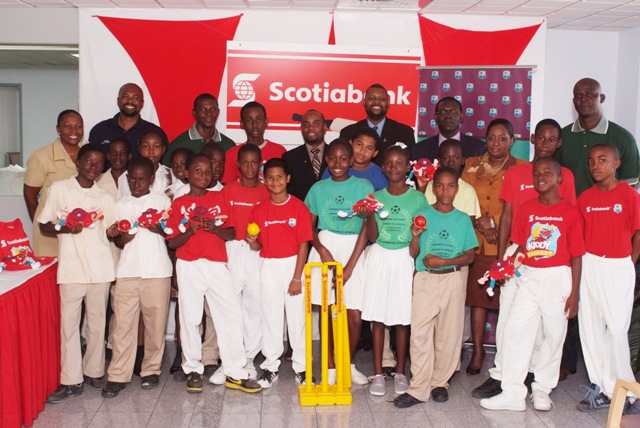 St John's, Antigua – The expansion and re-energization of the Kiddy Cricket Programme continues in earnest. The West Indies Cricket Board and Scotiabank officially launched the 2011 Kiddy Cricket Programme in Antigua, on Thursday at the Scotiabank Headquarters in St John's.
The Kiddy Cricket launch commemorates a twelve year partnership between the WICB and Scotiabank since 1999, with a main goal to promote cricket at the primary school level both on-field and in the classroom, where children from ages 6-11 are given the opportunity to learn the fundamentals of the game in a fun and explorative manner.
WICB CEO, Dr. Ernest Hilaire said: "The WICB has placed strategic emphasis on the development of cricket at the grassroots level. We believe that for cricket to flourish in the region and for West Indies cricket to be strong at the highest levels we need a strong base.
"Scotiabank has been an outstanding partner of West Indies cricket in a most genuine manner. The partnership is strong and we believe that your support in the Kiddy Cricket Programme is just as critical to the development of West Indies cricket as our elite programmes."
Scotiabank Antigua & Barbuda Country Manager Marlon Rawlins commented: "Scotiabank is firmly committed to the programme as we believe it remains a unique way to develop well rounded students and great sportsmen. We have continuously renewed our exclusive sponsorship each year with the WICB and promise to work together to expand the opportunities we currently offer the children."
Minister of Sport, the Honourable Winston Williams also attended the ceremony and congratulated both Scotiabank and the WICB on the Kiddy Cricket Programme which he said positively affects the lives of kids across the region.
The fun programme which is geared towards getting kids excited about the game also supports an academic component making creative learning aids available to schools. The Clarence Goes to School Teaching Manual is one such element covers basic subjects such as Mathematics, Language Arts, Science and Social Studies.
Over 150,000 kids in over 1100 primary schools across the Caribbean will enjoy the Kiddy Cricket Programme as it is implemented this year. This includes over 66 schools in Antigua & Barbuda reaching over 6000 kids.
WICB and Scotiabank will launch a series of activities throughout the year including three grand Kiddy Cricket Festivals, a Scotiabank Kiddy Cricket Development Camp and also on-field displays at this year's Digicel Series when the West Indies host Pakistan and India from April to July.
The first programme activity commenced on January 2, 2011, with the launch of a Kiddy Cricket Mascot Competition giving children the opportunity to create and design the next programme mascot which will be officially unveiled at a grand rebranding launch scheduled for later this year. Prizes for the competition include MP 3 Players, Nintendo DSs, Scotiabank Hampers and a regional grand prize of one laptop computer. For further details log on to: http://www.windiescricket.com/kiddy-cricket