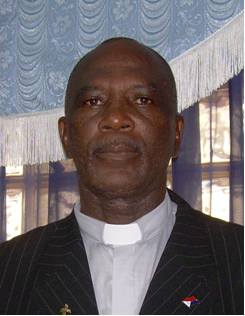 Bishop Sam hosts the program called "Let's Get Real", which can be heard every Sunday at 4:00 pm.
Bishop Sam was born in Guyana, South America. He was brought up in the Assembly of God as a child, and was well aware of God's saving Power. Eventhogh they hardly ever missed a service, under the strong hand and guidance of hs mother, who played the role of both mother and father, he soon turned to the world in his teen and early adult years. In 1983, he decided that his life needed a change and traveled to St.Maarten, with the intention of traveling further to Canada. God, however had a different plan for his life. Shortly after his arrival on St.Maarten, he gave his life to Christ and was mentored by Bishop Lewis Jones, his Spiritual Father.
In 1984, still having the intentions of going to Canada , he met his beautiful wife
Marva Arrindell. Again, God had intervened into his plans. God definitely had a purpose for him on this beautiful Dutch Caribbean island, St. Maarten. After a short and stormy courtship, they were married in 1985. God has blessed them with three wonderful children: Jousha, Charity and Juda-El.
In 1995, he and his wife were ordained as ministers of the Gospel by Arch Bishop Benson Idahosa. At that time they were faithful members of Bethel Victory Assembly, where he served as co-pastor and his wife as Sunday School Superintendent.
In 2001, after 18 years of faithful service at Bethel Victory Assembly, he felt God wanted him to begin another ministry. â??Thy Kingdom Come Ministry Internationalâ? starting with a membership of just 6 persons was birthed. The ministry has grown to 150-plus members over the five years. His close relationship with Bishop C. Esseboom from Canada has taken him to Nigeria in 2005. This experience was life-changing. He continues to travel in the Caribbean and other parts of the world, preaching a message of salvation, healing and deliverance. Bishop Sam also has oversight of two other churches, one locally and the other overseas.