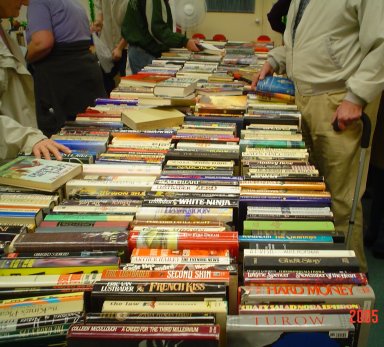 Books, Books, Books, be the first book enthusiast on Saturday October 8th to visit the Philipsburg Jubilee Library's book sale from 10 am to 1pm. It is so much fun to be caught selecting your share of the books.
Parents, Teachers, and Caregivers we know you promote the importance of reading to children, so for you we have made a huge selection of children's book for your buying pleasure!!
We didn't forget about you, parents, we know that you will support this venture by dropping in and collecting your favorite books. We have included magazines, novels, fiction and non-fiction in several languages.
Special prices because it's the 8th of the month, take 20 books for only $ 5 / NAF 10.
Persons who are interested in buying single copies can do so if they desire:
· Single hard cover books cost $ 1.00 / NAF 1.80,

· Soft covers $ 0.60 / NAF 1.00

· Magazines $ 0.25 / NAF 0.50

· Video $ 0.50 / NAF 1.00
Please remember that this activity generates the much needed funds for the purchasing of new and updated books for your library's collection.