Press Release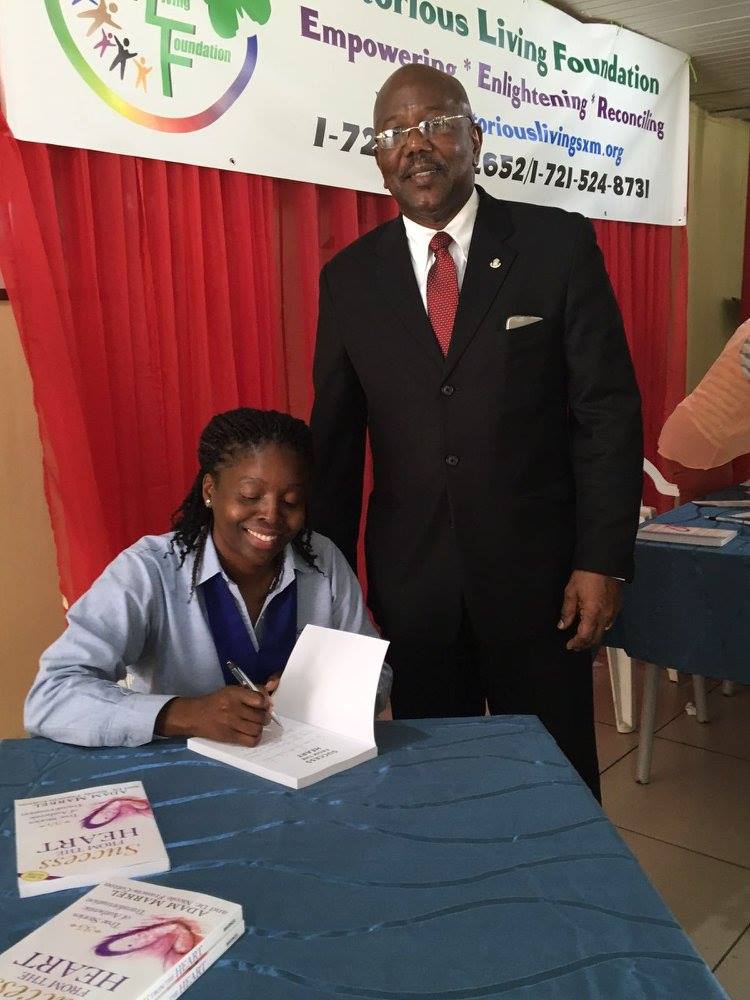 Great Bay, St. Maarten February 15, 2016:  The book signing of Success from the Heart, an Amazon bestselling book commissioned by Adam Markel, CEO of New Peaks™ was recently held at the Philipsburg Jubilee Library with one of its co-authors, Dr. Erna Mae Francis-Cotton.  In Success from the Heart, Adam Markel gathered 35 entrepreneurs to share their powerful stories of heart-centered transformation; and daughter of the Caribbean soil, Dr. Erna Mae Francis-Cotton had the distinguished honour of being among these global entrepreneurs with her chapter in the book, Believe in Yourself & Press on.
Victorious Living Foundation and the Philipsburg Jubilee Library partnered to organize the book signing, which was described as well organized and inspiring. Present at the signing were several dignitaries including Prime Minister of St. Maarten, William Marlin and Minister of Justice Mr. Edson Kirindongo. Connis Vanterpool and Essynce entertained the audience with two inspiring pieces from his latest release, "Remembering Bob Marley." The library was also presented with two books by Francis-Cotton for their archives. Therefore persons unable to buy the book may visit the library and read the book.
Guests present at the signing expressed how the event impacted them. "The event was really inspiring, motivating as well as uplifting," said Janel, a UVI student.  MC of the event, Roy Cotton, Jr., seconded Janel's sentiments by stating, "The signing was a moving and inspirational experience."
Joyann Van Arneman, an alumnus of Y2X, the youth wing of Victorious Living Foundation, who has done her island and the Foundation proud with her own accomplishments as a young woman stated: "This book signing was my first, and as such I wasn't sure what to expect. From the time I walked in, the presence of the Prime Minister and newly appointed Minister of Justice spoke to the caliber of the event and the book. With each speaker, my interest in the book was further roused. In the end, I left with an understanding of the place of passion from which the book was written and an excitement to get started reading." 
Georgia Peterkin, radio personality and volunteer at the event stated: "I would like to express my appreciation to Dr. Nicole Erna-Mae Francis-Cotton. I was rather privileged to be a part of this great event. On an Island like St. Maarten, which is relatively small in comparison to other Caribbean Islands, we witnessed a young lady, through all the challenges that life and or society presents, was able to captivate the attention of Church leaders, historian Joseph Lake, Jr., and also the Prime Minister of the island, Mr. William Marlin.
 "I listened to both persons respectively speak about Dr. Erna-Mae with such admiration and pride. They too, I believe share the same sentiments as I do regarding this young empowering lady. As I and the other attendees listened to Mr. Lake, who is a very prominent figure here in St. Maarten, speak about Dr. Francis-Cotton I was left with a resolute mind that greatness starts where fear and doubt ends.   
 "Many of the attendees were touched during the ceremony even to the point of being emotional, as I watched some of them fight back their tears and others' eyes filled with the tears they were not able to hold back, during Dr. Cotton's speech. I dare say; we were all proud of what was presented to us and from whence it came.
 "The book "Success from the Heart" captures a sundry of personal stories of successful men and women who were determined to achieve; irrespective of what obstacles they faced. I believe that most if not all in attendance could resonate with these personal life stories. As a result, I saw everyone making sure that they got their copy of Success from the Heart.  Even the appreciation of the Author was evident as I also had the privilege to watch them hustle over to get their books signed right after purchase. I saw a people that were proud of their own and celebrated their own.
 "As I listened to the speech of the Prime Minister, I heard him saying indirectly, "This is what you call true success." He actually referred to himself as insignificant compared to the work that Dr. Erna-Mae Francis-Cotton is doing and, without uncertainty, expressed his respect and admiration for the author, who is also a musical poet, a counselor, and a professor at Grace Hill Bible University.
"I have been to a few book signings before, but, this by far was the most meaningful and empowering one.  I experienced an oneness of a people, love, appreciation and support. I suppose that when one gets to that place, they are well on their way to being successful from the heart."
Dr. Erna Mae Francis-Cotton expresses appreciation and thanks to all who helped to make the event a success including the library's management and staff; Prime Minister William Marlin, Mr. Joseph Lake Jr., the volunteers and board members of Victorious Living and all attendees including Minister of Justice, Mr. Edson Kirindongo. Success from the Heart is available at The Shipwreck Shops, Van Dorp Eddine, Party Extravaganza in Marigot, Top Carrot, Jezel Shoes and Accessories Boutique, and Victorious Living Foundation in the Royal Palm Plaza on Front Street.