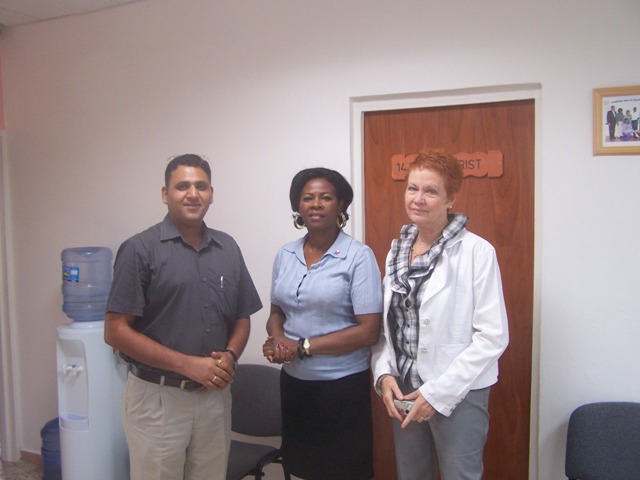 As part of the President of Parliament's 'information gathering consultation sessions,' last Friday, a meeting took place with the Director of the Mental Health Foundation (MHF) Eileen Healy and Psychiatrist Sachin Gandotra at their new facility in Cay Hill.
President of Parliament Hon. drs. Gracita Arrindell was given a tour of the facility besides discussing the challenges and progress being made by the MHF.
MHF has 500 clients registered and actively provides services to approximately 260. The facility is well underway to providing 24-hour service and is currently in the process of hiring six to eight psychiatric nurses to the current staff.
Healy mentioned about the challenge of finding local qualified staff and suggested that the island consider developing a nursing program.
"The objective of these sessions is to have a better understanding of entities and institutions that are subsidized by Government. National laws that these institutions are governed by also need to be looked into besides funding requirements with respect to the products and services they offer the community.
"For example, the MHF has been working under legislation that dates back to 1920. In 2010 legislation under the former Netherlands Antilles was revised, however it still does not address certain issues relevant to mental health care. 
"Members of Parliament (MPs) have a role to play with respect to the aforementioned. The information received will be passed on to MPs who in turn can prepare themselves in advance for a Central Committee meeting with the MHF," President of Parliament Hon. Gracita Arrindell said on Monday.
Arrindell was also informed about working relationships between the Capriles Clinic in Curacao, Turning Point, the Police and the White & Yellow Cross.