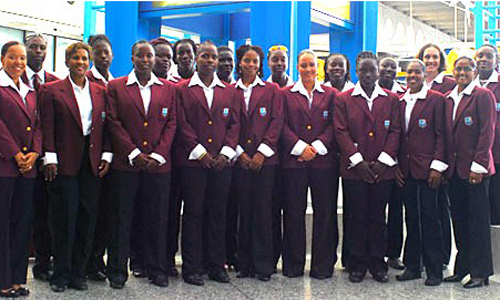 Bridgetown, Barbados – Head Coach of the West Indies Women's Team Sherwin Campbell has expressed satisfaction with the development and commitment demonstrated by the team on the recent tour of India.
The team returned home late Tuesday after three weeks on the sub-continent. They lost the five-match ODI Series 2-3, after taking a 2-1 lead, and lost the three-match T20 Series 1-2, after drawing level in the second match.
"Many teams, both men and women, go to India and get blown away so I was pleased with the fact that we were very competitive against the Indian girls and we played some fantastic cricket on tour," Campbell said.
"The Indians are ranked above us and are more experienced than us but the way we played showed that we have a talented team here in the West Indies, and the ladies are committed to getting better.
"We toured South Africa and Sri Lanka and managed to do very well. We played against England in St Kitts and we beat them. We also reached the semis in the World T20. Now with the performance in India, it shows that the team is making more steps forward," Campbell said.
"It is never easy away from home. To go out there in foreign conditions and record victories in tough conditions, again proved we are getting better as individuals and as a team. I believe we should have won the ODIs. We outplayed India in the first match, and on two occasions we lost by just 10 runs," Campbell recapped.
"We need to learn from these experiences so that the next time we get in winning positions we can convert them to victories," the former West Indies Vice Captain said.
Windies star all rounder Stafanie Taylor dominated the ODIs, making the most runs and taking the most wickets. Off-spinner Anisa Mohammed got the second most wickets. Both made major jumps on the ICC ODI Player Rankings.
Left-hander Shanel Daley also batted well in her new position at Number 3 and recorded career-best scores in the both formats. Seamer Tremayne Smartt was also a stand-out with her bowling in the T20s.
Campbell commented: "I have been with the team for close to three years now and I can see the overall improvement, the overall effort, the desire to get better. We are moving forward. We have players who give 100 percent every time. Once you get that kind of effort the team will do well. We would love to play more against teams ranked higher so we can get competitive and improve even more."