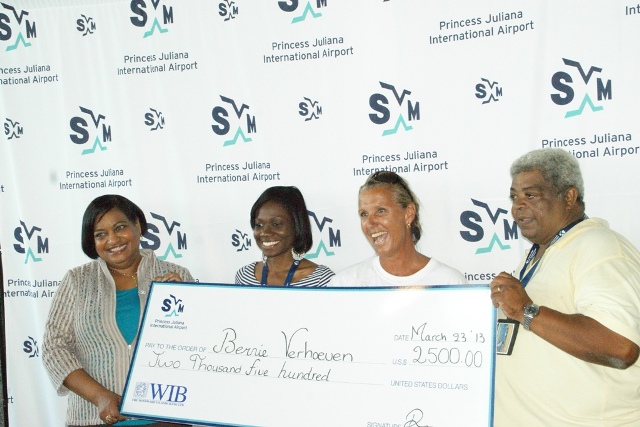 And the winner is … Bernie Verhoeven!
"I can't believe it!" she exclaimed, shocked that her photo had been chosen as the winner of the first Toppix Aviation Photo Contest out of a total of 75 entries submitted, at final count, by 26 participants.
Verhoeven's photo depicts the underbelly of an Air France jet zooming in with the clouds almost as a shroud around it and people on the beach snapping away as if in a choreographed action to catch the big bird as it descends on the runway at Princess Juliana International Airport (SXM).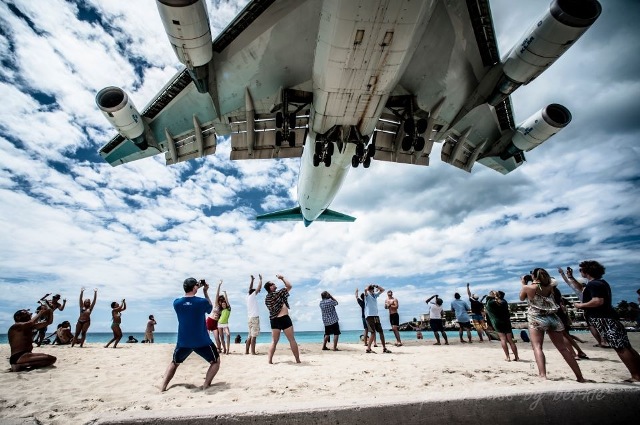 Photo caption: The winning Toppix 2013 photo by Bernie Verhoeven. (© photo)
It was obviously a very popular choice as everyone at the prize-giving ceremony held Saturday evening at the airport, was full of praise for it.
"It was the 'wow' factor that did it; that was very important," Milton Peters, ace photographer of Today newspaper who also took part in the competition, said.
The theme of the contest was "Sint Maarten, Aircraft Spotters Paradise," and participants were allowed to interpret this as they wish, however, their entries should not only depict an aircraft, but should also include a landscape of St. Maarten in it.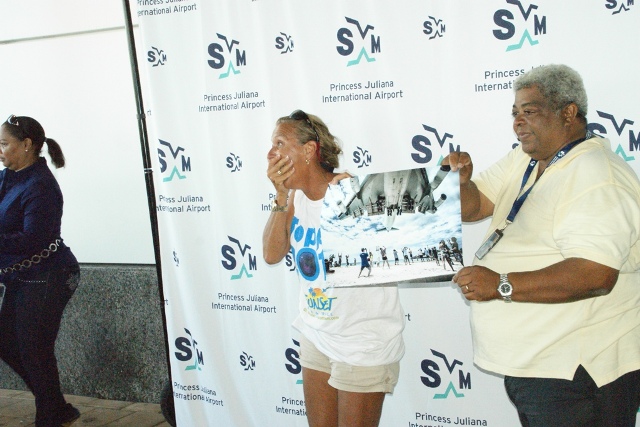 According to Peter Gunn, one of the three judges, there was no doubts at all in the minds of the judges as to which photo won. "When we saw the photo by Bernie, we immediately put it aside," he said. "It was simply fantastic."
Chris Kilroy, also on the panel of three judges, concurred. "Judging was partially difficult, but we kept within the rules of the competition," he said. "The decision on the winner was unanimous." However, he added that the quality of the photos submitted by the participants was such that about "85% of them are good enough to be hung around the airport."
Verhoeven received a cheque of US$2,500 from SXM, main sponsor of the event for her winning photograph, while the final six nominated photos will be exhibited at the airport, although there is talk of a larger exhibition given the quality of the photos.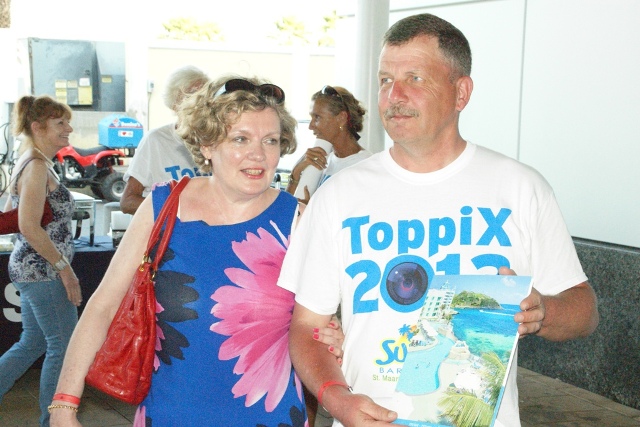 Alain Duzant, one of the 17 participating St. Maarten photographers, had two of his three entries in the final six selected by the judges. "I'm thrilled to have participated in the competition and I'm looking forward to next year," he said.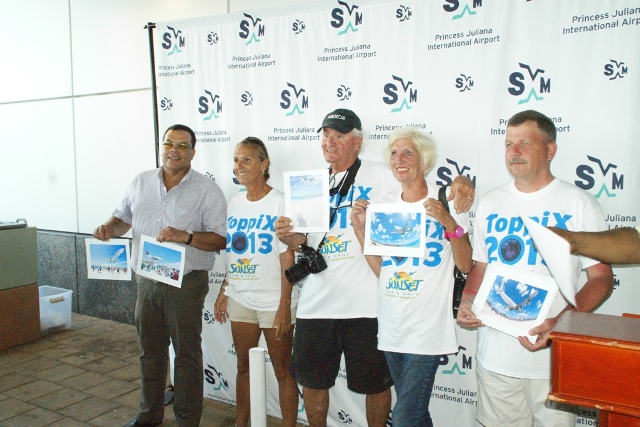 Jan Severijns of Belgium received a special prize of a complementary stay of 4 nights/5 days at the Oyster Bay Resort, courtesy of the resort.
Managing Director of Princess Juliana International Airport, Regina La Bega, praised the organizers, particularly Robby Cijntje, who she called "the brain behind this event" for a job well done. Cijntje, himself obviously overwhelmed with joy, thanked all the sponsors, including the St. Maarten Tourist Bureau (STB), judges and participants for making it such a successful event.