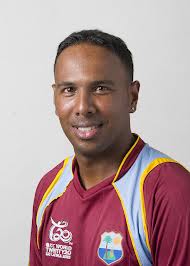 North Sound, Antigua – World T20 champions West Indies had things all their way for the second day in a row as they easily beat Zimbabwe by 41 runs to win the second T20 International on Sunday. Man-of-the-Match Samuel Badree took a career-best 3-17 off four overs as the Windies won the weekend doubleheader 2-0 at the Vivian Richards Cricket Ground.
Watched by a colourful crowd, which included the great Sir Vivian Richards, the West Indies provided quality entertainment as they rattled up 158-7 off their 50 overs. Opener Lendl Simmons continued his good form with 41 and Kieron Pollard hit an 45 not out off 24 balls.
The Windies bowlers got off to a good start as leg-spinner Badree claimed three early wickets and debutant Shannon Gabriel bowled with genuine pace to have the visitors exposed at 33-3 in the eighth over. They never recovered and ended on 117-6 off their 20 overs.
Simmons was named Man-of-the-Series as his knock on Sunday followed up a six-studded 63 not out on Saturday.
The was the eighth victory in a row for West Indies, whose winning streak started during the ICC World T20 last year when they were crowned world champions. After the game, skipper Darren Sammy said it was a great feeling to win in convincing fashion and put smiles on the faces of Caribbean fans.
"We didn't just win, we beat them convincingly. We are listed much higher than them in the rankings and we wanted to prove that we are a better team. We played like true world champions and it is great to see the fans smiling and enjoying the matches. This is the first time we played at home since we won the World Cup so we wanted to celebrate with our fans," Sammy told WICB Media.
"It was a very good weekend for the team. We came out here after winning the One-Day Series and we had clinical victories in both matches. Those are the kind of victories we want to see whether we play against Australia or Zimbabwe. We beat Australia a few weeks ago at the Gabba and now we have come here and completed a great job against the Zimbabweans."
Sammy added: "Badree bowled really well and he continues to do what he has done so very well for Trinidad & Tobago in the Caribbean T20 and the Champions Trophy, and what he did for us in the World Cup. He normally bowls very economically and was outstanding again today and provided us with the perfect start after we posted a good total.
"Simmons has come back into the team and played well in the two knocks. He had a good outing in the Caribbean T20 and it is good to see he continued his form. All in all, everyone chipped in and we are happy we came out on to in the T20 series.
The West Indies players will return to play in the upcoming round of matches in the Regional 4 Day tournament before assembling in Barbados for the first Test match at Kensington Oval, which bowls off on Tuesday, March 12.
SCHEDULE OF MATCHES
Fri, Feb 22: 1st One-Day International – West Indies won by 156 runs – National Cricket Stadium, Grenada
Sun, Feb 24: 2nd One-Day International – West Indies won by 7 wickets – National Cricket Stadium
Tue, Feb 26: 3rd One-Day International – West Indies won by 5 wickets – National Cricket Stadium
Sat, Mar 2: 1st Twenty20 International – West Indies won by 8 wickets – Vivian Richards Cricket Ground, Antigua
Sun, Mar 3: 2nd Twenty20 International – West Indies won by 41 runs – Vivian Richards Cricket Ground
Thu, Mar 7 to Sat, Mar 9: Tour match – Windward Sports Club, Barbados
Tue, Mar 12 to Sat, Mar 16: 1st Test – Kensington Oval, Barbados
Wed, Mar 20 to Sun, Mar 24: 2nd Test – Windsor Park, Dominica