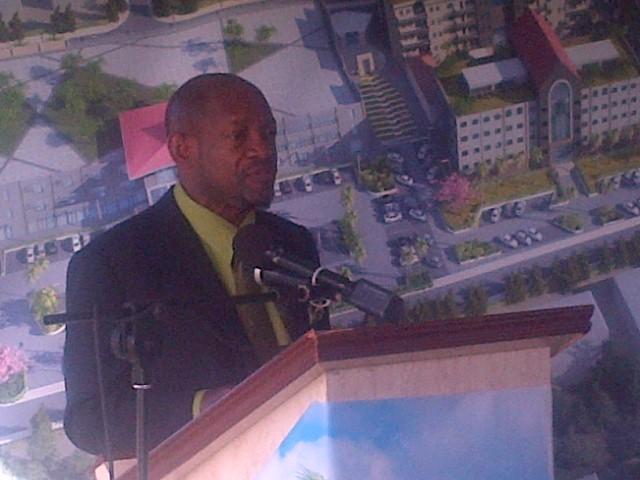 Photo No. 1 – St. Kitts and Nevis' Prime Minister the Rt. Hon. Dr. Denzil L. Douglas speaking at the launching of the Golden Rock Commericial Park.
St. Kitts and Nevis' Prime Minister the Rt. Hon. Dr. Denzil L. Douglas continues to articulate his Labour Government's policies that will reap benefits for locals at all levels of the society.
"The objective of my Government has always been to implement the types of policies and programmes that would make this nation's poor, working class; our working class, middle class; our middle class, wealthy; and in fact our wealthy, in an even better position to contribute to the ongoing economic development of this our proud country St. Kitts and Nevis," said Dr. Douglas during a mid-afternoon ceremony to launch the multi-million dollar Golden Rock Commercial Park, just outside the Robert L. Bradshaw International Airport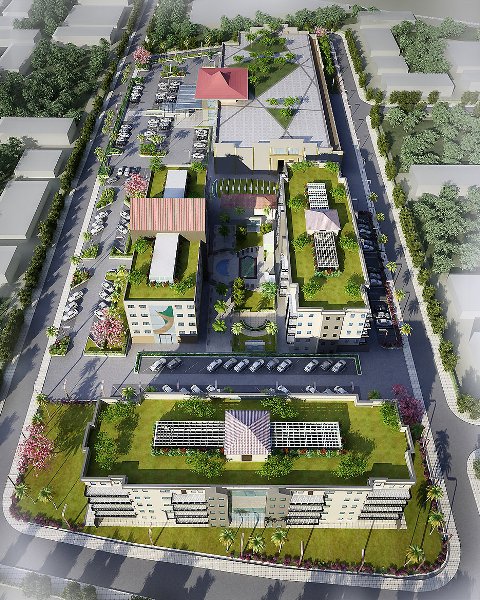 Photo No. 2 – Cocept of the Golden Rock Commercial Parkyrpt
"Golden Rock Commercial Park is a shining example of local business expansion. It is a compelling example of our nation's economic health and stability. And it is a validation of all of the pro-business policies and programmes that my Government has worked so long and so very hard to bring into reality, despite the challenges that we have faced," said Prime Minister Douglas.
He emphasize that the launching of the multi-building development with international appeal and island ambience is really a very special day.
"And for me and for many of us, it is a special day because it marks yet another milestone in our people's long and triumphant march from the pain and brutality of enslavement, to the very bold bright reality of full citizenship and from the humiliating uncertainties of colonialism to the unlimited horizons of this moment, this day, and this very proud era that now engulfs us," said Dr. Douglas.
The Prime Minister stressed that St. Kitts and Nevis is a really a very special and blessed place, and its people very blessed and special.
"And our being here this afternoon, to help bring into being the Golden Rock Commercial Park, is dramatic evidence of this all," he said as he congratulated local developers Scott Caines and Errol Douglas.
"These are two sons of our soil, two young men very much determined to chart their own course in this, the land of their birth, two young men, steeped in the complexities of the business world and who understand that St. Kitts and Nevis is bursting with possibilities and opportunities that St. Kitts and Nevis is a nation in which one can invest tens of millions of dollars without fear – very confident that the Government has provided the type of political, infrastructural, and democratic underpinnings that will make that investment safe," Prime Minister Douglas said.
Giving the developers the assurance that their investment is safe, Prime Minister Douglas pointed out that his St. Kitts-Nevis Labour Government has invested a tremendous amount of time and energy, over the past several years, to ensure that St. Kitts and Nevis would have the type of investment climate that would attract investors from near and far, and the unveiling of the project is very strong evidence of this.
Dr. Douglas said US$78 million Golden Rock Commercial Park is perfectly positioned to provide the type of commercial and other rental space that the anticipated growth in the economy will definitely create.
"Located close to the Robert L. Bradshaw Airport, its condo/hotel facilities will make it very easy for local and international businesspersons, attracted to the employment and business opportunities generated by this Government's policies, to transact business conveniently and in fact in-person," he said.