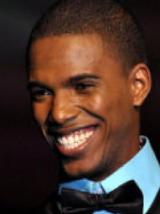 WILLEMSTAD, Curacao — A young man, Gwendell Mercelina II, born in Curacao, has transcended borders for his country after being recognized as the first ambassador of the global youth platform "One Young World", precisely one year after being named "Youngster of the Year" by the Star Academy and Plataforma Banda Ariba. He was formerly known as the record-breaking president of the Youth Parliament of Curacao.
The year 2011 could be considered as a life changing year for this youngster, after being diagnosed with two diseases that affected his way of living. He spent two months in Colombia to undergo an "intacts" transplant in both eyes as a result of a disease named "keratoconus". Afterwards it was also discovered that he suffers from "vitiligo", a skin disease (known as Michael Jackson's skin problem). All this made the young man even stronger on his view of life, giving him the chance to get the best out of life, persevering with love and faith for everything we receive every second.In August, for the second time he participated in the journey of millions of youngsters to Madrid, Spain, for the encounter with Pope Benedict XVI named "World Youth Day". He represented the parish where he serves as lecturer, "La Birgen di Fatima" of "Suffisant" in the charge of Rev. Father Morisson La Porte. After celebrating the pilgrimage that gathered together more than a million youths across the globe to celebrate their faith in prayer and fellowship, he settled in the Netherlands and moved between events of the "Kas di Korsou", working on finalizing the thesis of his foundation "Curacao our Nation" by master student of University of Utrecht, Joeri Kabalt. He also made a short visit to the production company "Endemol" which is in charge of a Caribbean soap opera series he's starring in, "Ki bo ke Men". Meanwhile he also gave some leadership courses to youngsters and was selected to become the next UN Youth Representative for the Netherlands. In September he was selected as an exceptional candidate to represent Curacao, when more than 1,200 young leaders from over 170 countries around the world met in Zurich, Switzerland, to address the most challenging issues facing the world today.The largest global youth summit in the world, young delegates joined together with some of the world's most inspirational figures, including Archbishop Emeritus Desmond Tutu, Sir Bob Geldof, Muhammad Yunus, Wael Ghonim and Jamie Oliver, to deliver their demands for change.
Gwendell was chosen due to his wide curriculum of leadership experiences, and also as the creator of the international concept We Lead Foundation, as creator, founder and chairman of the enterprise he is working to establish. What this young man has accomplished brought him today to become one of the ambassadors of the One Young World. During the conference in Switzerland, many were enchanted by the personality of this young man, who breaks barriers, through any challenge he encounters. His work marked the hearts of everyone who chose him to become an ambassador of the global forum. Many called him "Obama" for the looks and comparison they encounter in both. Now that he has become an ambassador, his projects will also gain international exposure through the medium of One Young World, which will put Curacao more in the spotlight. The next conferences of One Young World will take place in 2012 in Pittsburgh (USA) and in 2013 in South Africa.Before Gwendell departed on his journey, he had a friendly talk about his future plans with Minister of Social Affairs Hensley Koeiman, who is also in charge of youth affairs.