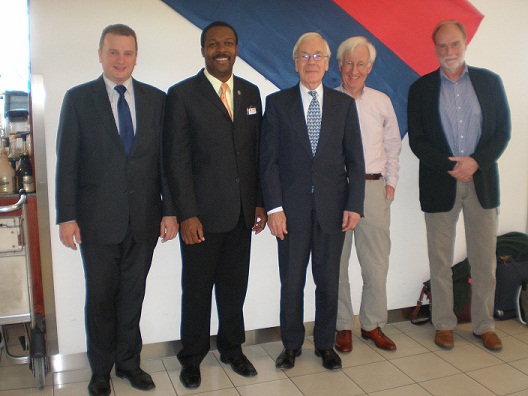 Mr. Herman D. Tjeenk Willink, Vice-President of the Raad van State, the highest Council of Advice in the Dutch Kingdom, started a tour of the islands today, Friday, November 11th, 2011, with a flight to Saba after landing at Princess Juliana International Airport on a KLM flight at midday.
Mr. Tjeenk Willink is scheduled to step down as in January 2012 when he makes 70 and is therefore touring the islands for the last time in his capacity as Vice-President of the Dutch Council of State, which is chaired by Her Majesty Queen Beatrix. The delegation will be returning to St. Maarten on Monday, November 14th. Mr. Tjeenk Willink is scheduled for a series of meetings with the Governor of Sint Maarten, the Parliament of Sint Maarten and with the Council of Ministers.
Mr. Tjeenk Willink and his delegation were received and escorted by Terrance Rey, CEO of AirStMaarten, at the PJIA airport. In the past, AirStMaarten has arranged flights and charters for visiting dignitaries to the islands such as Prof. mr. Pieter van Vollenhoven; State Secretarty Ank Bijleveld and Minister Piet Hein Donner. Terrance Rey is also Policy Advisor in the Parliament of Sint Maarten.