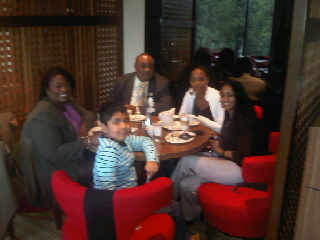 Minister of Finance Hon. Hiro Shigemoto met with two Sint Maarten students who will be completing their studies in the Netherlands respectfully in 2012 and 2013 and planning to return to the country to take up posts in the Ministry of Finance.
Government is working to hire young Sint Maarteners studying abroad to fill key positions within the country Government apparatus.
Minister Shigemoto met with C. Pompier who is attending the Erasmus Univeristy in Rotterdam. Pompier is expected to complete her studies in December 2012.
J. Chiyadi is currently working at the Dutch Ministry of Finance in The Hague where he is getting on the job training experience. He will be completing this in December and will come to Sint Maarten to work with the Department of Fiscal Affairs.
The Minister also met with two other students both employees of the Tax Authority, T. Trinidad and S. Khodabaks, who are studying for their Masters in Fiscal Law in Holland and are preparing to return to the country by 2013/2014.
All students informed the Minister that they are doing well with their studies which sometimes can be challenging, but they are all anxious to learn as much as possible in order to return home and better serve their country.
On Thursday Shigemoto also had a lunch meeting with the Vice Minister of Plenipotentiary Hon. Richard Panneflek to discuss internal matters.
The Minister of Finance paid a courtesy call on the country's tourism rep for the Netherlands Interreps BV in Voorschoten, and the Director and staff gave an overview of promotional activities and were informed that the bureau had received an award for the best promotional campaign.
Dutch travel writer and designer of the travel website droomplekken.nl, Corno van den Berg on October 25 was awarded the Caribbean Travel Writer Award for 2011, and the winning article was entitled: "St. Maarten, Caribische mix van Frankrijk en Nederland."
On Friday the Minister will be meeting with S4 Student Coordinating Organization in Amsterdam to also get an overview of operational activities and to meet with students from the island.
"I make it a point to visit students in order to provide them with factual information on current developments back home. It is also an opportunity for me to hear from the students about their progress with their studies and how it is going studying in a different environment when compared to home," Hon. Minister Hiro Shigemoto said on Thursday.