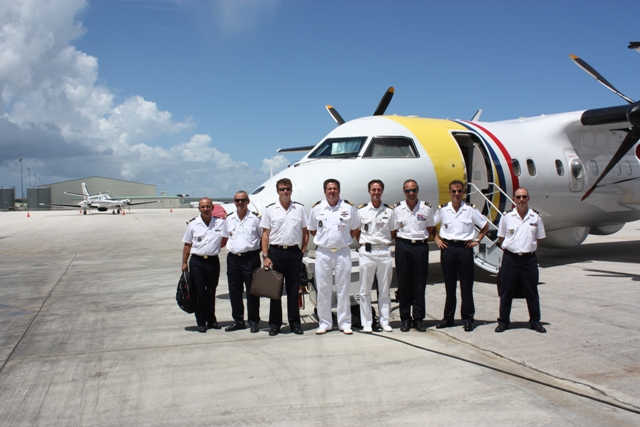 The Coast Guard has strengthened its cooperation with her French maritime partners. This week a delegation of the French Customs visited the Coast Guard Headquarters on Curacao.
Last week the Coast Guard received a visit from the maritime representative of the Prefect of Martinique. The Coast Guard cooperates intensively with the French maritime authorities, especially in vicinity of the Windward islands of the Kingdom (Sint Martin, Saba and Statia). This cooperation focuses both on the maritime law enforcement as well on maritime safety.
On the latter, maritime safety, the RCC Curaçao coordinates on a regular basis Search-and-Rescue actions with its partner RCC in Fort-de-France (Martinique). Several SAR actions have been conducted in good cooperation using both French assets and assets of the Coast Guard. This includes flying assets from substation Hato and maritime assets from substation Sint Martin. Regarding maritime law enforcement, both French and Coast Guard have to coordinate their operations, since the territorial waters are almost bordering around some islands. Further, valuable information is exchanged on a regular basis.
As the Kingdom of the Netherlands, France is treaty member of the so-called "Treaty of San José". The purpose of this treaty is to improve and strengthen the counter illicit trafficking in the Caribbean region by enhancing the cooperation and coordination of the treaty members. The treaty enables members, with permission of the other state, to operate in each others waters and to conduct inspections on each other vessels when situation dictates.