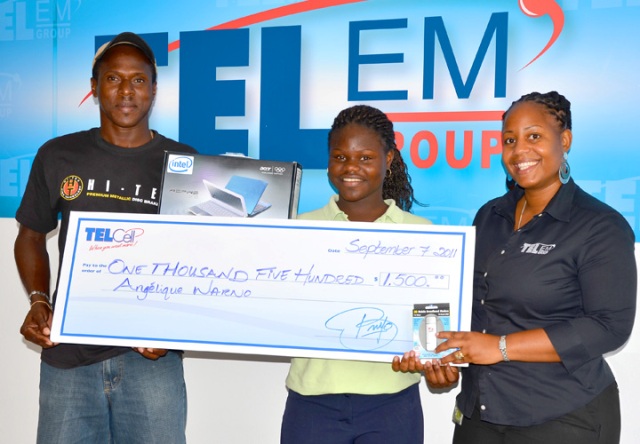 St. Dominic School student, Angelique Warno is the lucky winner of TelCell's annual Back-to-School Excel and Win contest and a fabulous $1,500 cash prize for school books and other supplies.
Angelique was one of hundreds of students who submitted their school reports to their favourite mobile provider before the start of this last school term showing they had progressed to a higher grade.
"All the students had to do was purchase one of our handset models at a promotional price to enter their winning grades into our Back-to-School draw," said TelEm Group Marketing Officer, Marelva Felix.
Ms. Felix said, as well as the cash prize, Angelique also took home a brand new Acer Netbook along with 1 month's free 3G/DSL internet service.
"It's a lovely package for any student because it sets them up with the cost of school fees, uniforms, books and other supplies for the school year with the computer and DSL as an added bonus," said the Marketing representative.
She said the promotion is seen as an encouragement to students to strive to do well throughout the school term and aim for high grades.
Angelique picked up her prize at TelEm Group's Pond Island main office Monday, along with her father, Mr. Luc Warno.
Both father and daughter thanked TelCell for the prizes, which they assured would be put to "very good use."