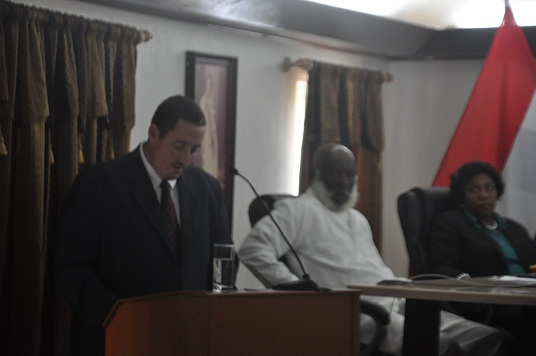 Mmeeting adjourned for Executive Council to prepare answers.
The Island Council of the Public Entity of Saba, met on Monday, August 28th for its first meeting since their inauguration in March.
The meeting commenced at 2:00pm was opened by the Chairman of the Island Council, Island Governor, Jonathan Johnson, who read off a six point agenda, of which the main points for debate were the new Rules of Order, which will govern how the Island Council will conduct future meetings, and the Year Report for 2010, which discusses how the Executive Council carried out the budget for the fiscal year. ICM Amelia Nicholson requested that the Chairman add a motion, as another point to the agenda, which was accepted.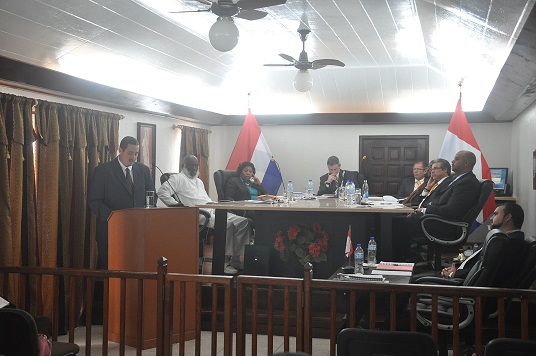 Rules of Order
Island Council Member and Chairman of the Central Committee, began the debate on the Rules of Order and gave a brief outline of the new rules of order and also pointed out that, they specifically do not contain any limits on the amount of time that either an Island Council Member or Commissioner can speak for because, the Central Committee believed that everyone should be allowed to be speak freely without the encumbrance of time. He also pointed out the differences in the monolistic and dualistic systems and indicated that in the future, they would have their own Griffier, which is the Secretary to the Island Council. ICM Eviton Heyliger requested that the rules or order be translated in English, for the benefit of the general public. When his opportunity came to speak, ICM Ishmael Levenstone requested that a moment of silence be given for the former ICM members and also that the commissioners take some time to look after some of the matters that have been given to the RCN but still affect the daily lives of Sabans.
When the vote was called the Rules of Order was passed unanimously 5-0 and the Chairman said that they would become applicable only after they were signed by him. He said that the current Rules of Order, which have been used since 1985, would still apply to this meeting. The new rules, he mentioned were provided by the Association of Dutch Municipalities(VNG), and Saba was the first island of all three Public Entities to pass them.
Year Report 2010
The debate on the Year Report 2010 was opened by Commissioner of Finance, Bruce Zagers, who opened his speech by saying that he was pleased" Saba was the first island to present the report within the stipulated timeframe" of July 2010, but he said he had "mixed feelings from the fact that the audited year report did not receive a positive advice from the auditors." He said that reports in the media have suggested that if such an outcome had been received in The Netherlands, it would have had negative consequences. He refuted this by stating "I would like to say that the great country of the Netherlands, with all its riches and success, also went through a similar situation in the 1970s. At that time not only the Dutch municipalities but even all the Dutch ministries themselves had a substantial backlog in presenting year reports. At that time auditors were examining year reports that were outdated 3 or more years. An action plan was started called "comptabel bestel" of which the goal was to present year reports on time with an audit opinion. Most of the municipalities had problems with producing their year reports on time and took them several years before some of them received a positive audit statement. Mind you, their financial staff was at least ten times bigger than our staff and I am sure they had resources even back in the 1970s that we still don't have today." He said just as it took the Netherlands some years to receive a positive year report, he would ensure that within the coming years, Saba will get a positive advice from the accountants with regards to the year report audits.
The commissioner went on to outline the reasons the auditors did not give a positive reply, such as the fact that the Executive Council decided to follow the rules of the BBV BES instead of the rules of the former Netherlands Antilles. In addition to this, the quarterly budget amendments had not been debated by the Island Council as is also a requirement. Based on the advice of and with the support of the CFT, proper accounting procedures could not be confirmed with, which also makes it impossible for the auditor to give positive advice.
The commissioner concluded by saying that several of the recommendations of the report are going to be followed and implemented but that the goal of an approved audit report, will take time to achieve.
Commissioner Chris Johnson then took the lectern and in his comments to the Island Council decried the "double standard" that the media have used recently, by calling for the Commissioner Zagers to resign because of a negative advice on the Year Report and yet no calls for the Minister of Health, even though she has fouled up a healthcare system that was well managed by Commissioner Zagers. He said that it was indefensible the way the Dutch government has been treating people on Saba like second class citizens. It seems he said that it is "cheapness based on principle."especially when an issue such as GEBE, which would only take the comment of the Ministry of Economic affairs is being ignored.
In the first round, ICM Buncamper, asked several questions regarding the year report, he felt have to be answered , before it can be voted on and lamented the fact that the Island Council had not been consulted in the selection of the firm that carried out the audit.
ICM Eviton Heyliger, said that he would not just approve the Year Report, because he was a member of the ruling party and asked several questions, and requested documentation pertaining to different aspects of the Year Report.
The Chairman adjourned the meeting after the first round, so that the Executive Council could have adequate time to prepare their answers to the Island Council. Because the Island Council will be in St. Eustatius over the remainder of the week, the Island Council meeting will resume