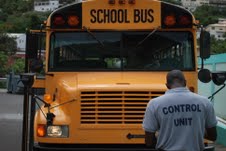 The School Bus Inspection Section would like to inform school bus owners that the final inspection round will take place from Monday, August 8 to and including Wednesday, August 10 from 9.00am to 12.00pm across from the Ministry of Public Housing, Spatial Planning, Environment and Infrastructure (Yellow Building on the Pondfill).

School Bus Section Inspection Head M. Thewet told the Department of Communication (DCOMM) on Sunday that most school busses have not been given the green light to transport school children, because did they not show up for the initial inspection last month.
Thewet added that school bus owners who do not show up during the current inspection period will receive an automatic failed inspection status and will not be allowed to transport school children nor will they be compensated for the upcoming 2011-2012 school year.
The aforementioned "no show, no pass policy" was introduced in early 2010 and that policy will be enforced during the new school year.
School Bus Unit Section Head M. Thewet added that school bus owners who have challenges in getting their busses ready for transporting school children on August 15 should contact her department right away.
"The School Bus Inspection Section is responsible for inspecting all vehicles used for school transportation. A meticulous inspection is carried out to ensure the buses meet the rules and regulations governing the safe transport of school children.
"The primary goal of the school bus inspection program is to provide for the safest transportation possible for the children of Sint Maarten. The inspection program is the key component and most effective way to achieve our goal of safe transportation for school children," M. Thewet pointed out.
School bus owners can call the section at telephone number 542-4511 or 542-4509 for additional information or clarification.
The School Bus Inspection Section and Control Unit are looking forward to the public's full support for the new school year 2011/2012, and wishes all students and parents a safe and productive year.