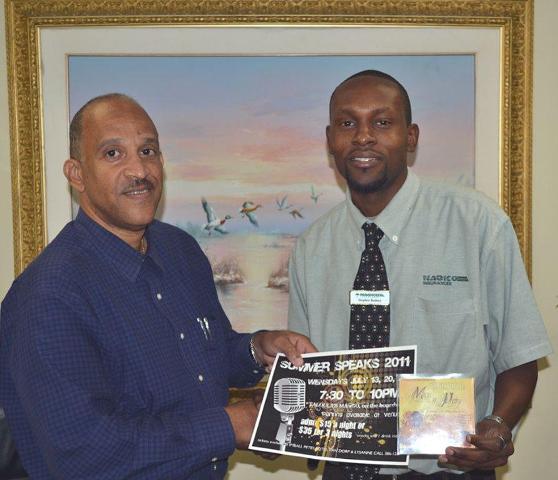 Yet another young artist was given the opportunity to realize his dream and showcase his talent, with the launch of his debut album, courtesy of NAGICO Insurances.
Stephen Rodney; who goes by the stage name 'Stretch R' launched his first album last week called 'Music n' Poetry' an enchanting and hilarious mix of dancehall music and rapchat poetry.
Stretch R is an upcoming artist, who is very popular on the island for his music and has made several on stage appearances during big events like Carnival and Heineken Regatta 2010, gives credit to NAGICO Insurances for their financial contribution.
"This is something I always wanted to do and have been working hard to accomplish for a long time, but you know times are hard so it has been difficult," he explained. "That is why I am extremely grateful to NAGICO, because when I approached them and outlined what I wanted to do, there was no hesitation at all from them and that is something I really respect, because most people and businesses you approach nowadays don't even entertain the thought of assisting anyone and for NAGICO to give me an opportunity like this I am very grateful."
The album which has 19 tracks are all written and produced by Stretch Rice and the respective collaborating artists. This he says will be released on the 27th of July, during the last week of Summer Speaks being held at Taloulah Mango's.