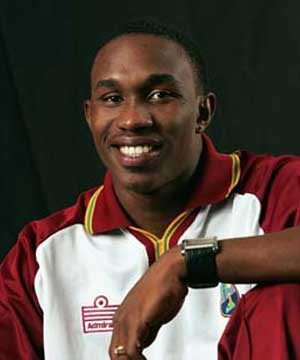 New Delhi, India – The West Indies are eagerly looking forward to the start of their ICC Cricket World Cup campaign on Thursday. Vice Captain Dwayne Bravo said he and his team-mates are ready for the opening clash against South Africa at the Feroz Shah Kotla Stadium.
"This is my second World Cup and I'm really excited. We know that the tournament is going to be really challenging but we fancy our chances. We have been working really hard and there is a great camaraderie in the camp. We are really excited and cannot wait to take the field on Thursday," he said.
"We have to get off with a win and gain momentum. We do not want to be in the middle of the tournament and play catch-up. Every cricket game we play will be very important.
"I have no doubt in mind that we will qualify for the second round and then take it from there. We have some good youngsters, very exciting players and they have a chance to show their ability in the biggest tournament and at the home of cricket, if I may call it that."
Looking ahead to Thursday's clash against the Proteas in particular, the 27-year-old noted: "Everyone knows they are one of the teams to watch out for. At the same time we also know that their record is not so great in the World Cups. That puts a lot of pressure on them. We are not the only ones under pressure. It's going to be a good match and we are confident we can win against them.
"They have a good team, a well-balanced team, a professional unit. It is a team that plays the game very hard and a team I look up to. But I know our guys are ready, looking forward to this match. I am certainly looking forward to this match in a big way. They are one of the team I do well against and they always bring out the best in me" added the effervescent all rounder, who has scored 1,786 runs and taken 132 wickets in 109 One Day Internationals.
In the build-up to the match there has been a lot of discussion surrounding the surface at the Feroz Shah Kotla Stadium.
Bravo noted however: "If something was wrong with the pitch, ICC would not have given it a go-ahead in such an important tournament. We had a look of the pitch in the morning and it had a lot of grass. But a lot can change over the next two days. We are not worried about the pitch. No matter how it plays, we want to start our World Cup on a winning note."
West Indies and South Africa are joined by India, England, Bangladesh, Ireland and Netherlands in Group B, with four teams advancing to the quarter-finals.