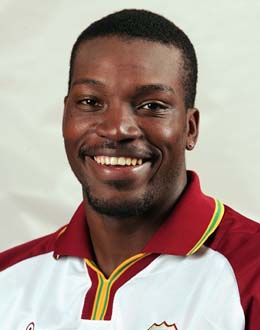 – says CWC 2011 could be his last World Cup
Delhi, India – New Delhi, India – West Indies batting star Chris Gayle sat down with journalists on Sunday at the Air Forces Ground in Palam to discuss his plans for the upcoming ICC Cricket World Cup and also to look at the West Indies chances of taking the coveted trophy.
The powerful left-hander was relaxed and engaging after the team completed a four-hour match-type training session.
Gayle said he wants to be a World Cup star. He wants to top the batting charts and also wants to pick up some wickets with his tight off-spin bowling. Overall he wants to get his hands on the golden trophy when the final is played in Mumbai on April 2.
"I want to be the best all rounder in the World Cup. I should be able to do a bit of bowling and get a few wickets as well and also set up a good total for the team. The preparation has been good. We came from Sri Lanka, of course things didn't go according to our plan but at the same time it is a big occasion and we want to get a winning start," Gayle said.
"The key is to get a good start and in this new format, the top four get to the quarterfinals and that would be the objective and then anything is possible.
"We have not done well in the two World Cups that I played and I hope things turn around here. We need to have the self belief. We have to take responsibility. We have to go out there and not just put up a fight but get victories."
West Indies have been drawn in Group B alongside Bangladesh, India, England, South Africa, the Netherlands and Ireland. Their first match is against South Africa at the Feroz Shah Kotla Stadium on Thursday, February 24.
They then face the Netherlands (February 28, Delhi), Bangladesh (March 4, Dhaka), Ireland (March 11, Mohali), England (March 17, Chennai), and India (March 20, Chennai).
"We are playing one of the favourites in South Africa and they are a top quality side in both batting and bowling. We have to be on our A-game and capitalise on opportunities. They are beatable. We need to be discreet about the way we go about things," Gayle added.
This is Gayle's third Cricket World Cup and he said it could be his last.
As he looked ahead he said: "I see this as possibly my last World Cup. I'm not sure I will be around in four years time. I am the first one to face the ball, so I would lead the batting. We have to make necessary adjustments. We have a couple of young guys in the side. We know the wicket here would be slow but we would like to wait and see how the conditions are and adjust our game accordingly.
"Young Darren Bravo can bat really well. He is a key player, though it is his first World Cup. He has been batting well. We also have two experienced players in Chanderpaul and Sarwan. Dwayne Bravo, Sammy, Pollard can all bat and they will make good contributions for us down the order.
Asked if he fancied a chance to get the magical score of 200, Gayle added: "Well, if I can get a chance, I'll definitely chase it. I don't see 50 over cricket dying down. I don't see that happening, things are going fine."