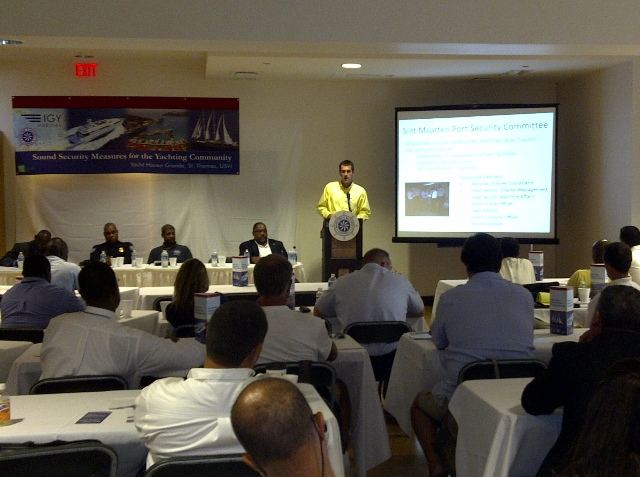 GREAT BAY, Sint Maarten (GIS) – Section Head of Disaster Management Paul Martens, recently attended the "Sound Security Measures for the Yachting Community," conference at Yacht Haven Grande in St. Thomas, U.S. Virgin Islands.
The one-day conference brought together maritime security specialist to discuss a number of security issues with special focus on the mega yacht community.
Presentations were given under the following headings: Security Priorities for the Caribbean Basin; Yacht & Marina Security and Its Impact on the Region; Weapons on Board – Benefits & Liabilities; U.S. Coast Guard Small Vessel Security Program Objectives; and a Yachting Security Exercise.
The keynote address was provided by Colonel Walters, Chairman of Port Management Association of the Caribbean, and Chief Executive Officer, Barbados Port Inc.
"The conference was very enlightening. We were informed about current trends and developments in the maritime security field as well as the challenges being faced by the sector.
"Sint Maarten's presence at the meeting was to share with delegates about our experiences on how we implement port security in general and the International Ship and Port Facility Security (ISPS) Code in particular.
"My follow-up will be to discuss the content of the meeting with the Sint Maarten Port Security Committee in February," Section Head of Disaster Management Paul Martens told the Government Information Service (GIS).
The opening remarks and welcome address were done by Yacht Haven Grande, Island Global Yachting Marina Manager Kevin Lussier and Maritime Security Council Chairman Philip Murray.
The conference was organized by the Maritime Security Council in collaboration with the Island Global Yachting (IGY).
The Maritime Security Council is contemplating organizing a similar meeting on Sint Maarten in 2012.
Martens participated in a panel discussion under the theme, "Yacht & Marina Security and Its Impact on the Region."
At the end of the conference, attendees were given a tour of the United States Coast Guard Cutter Reef Shark. Site visits were also carried out at the cruise and cargo facilities on St. Thomas courtesy of the U.S. Virgin Islands Port Authority.