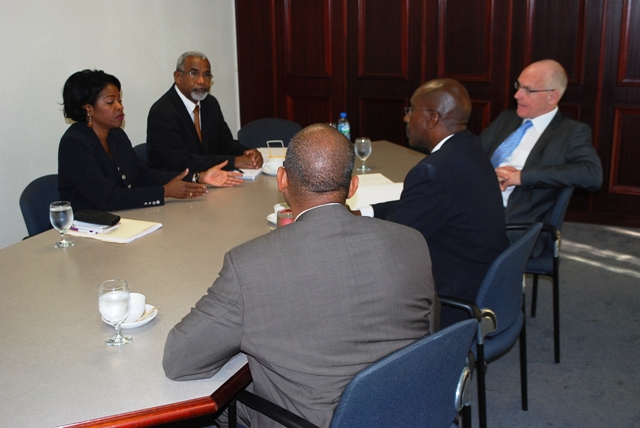 PHILIPSBURG, Sint Maarten – President of Parliament Drs. Gracita Arrindell on Wednesday met with some of the members of the Council for the Maintenance of Law & Order which includes Sint Maarten's Representative Franklyn E. Richards, a former Lt. Governor of the island.
The introductory meeting which also included Jacques H. van Eck (Public Prosecutor) and Henco Camelia (Quartermaster) focused on the task and responsibilities governing the council. Curacao still has to appoint its representative.
The Council was established by Kingdom Consensus Law and proclaimed per October 1, 2010. The Council for the Maintenance of Law and Order is an inter-country organ of Curaçao, St. Maarten and the Netherlands. It will be charged with the general inspection on the effectiveness and quality of the execution and management of the various services and institutions that are part of the judicial chain in Curaçao, St. Maarten, Bonaire, St. Eustatius and Saba, as well as the cooperation in the judicial area between the countries and special municipalities.
The appointments took place on December 29 per Royal Decree when Queen Beatrix and Dutch Minister of Safety and Justice Ivo Opstelten signed the decree based on a December 17 recommendation by the Kingdom Council of Ministers.
Richards and Van Eck have been appointed for a four-year period. Van Ecks will represent the Netherlands as far as it concerns the special Dutch public entities of Bonaire, St. Eustatius and Saba.
An office still has to be opened on Sint Maarten. The chair person of the council will be appointed once Curacao nominates its representative.
Specific tasks of the Council include: police, training of police, the Public Prosecutor's Office, penitentiary institutions, rehabilitation services and aid to victims.
"The Council has a role to play. Agreements that have been signed with the Kingdom Government regarding the judicial chain with respect to execution will be monitored by this Council. For example, if the Council notices that certain element of the agreement is not being implemented satisfactorily, the Council can inform the Minster of Justice who then has to take the corrective actions. If the Minister does not do anything, then the Council can approach the Parliament. This is where we come in and play our role.
"The Council for the Maintenance of Law & Order is another entity that is part of the checks and balances within our young democracy," the President of Parliament Gracita Arrindell concluded.