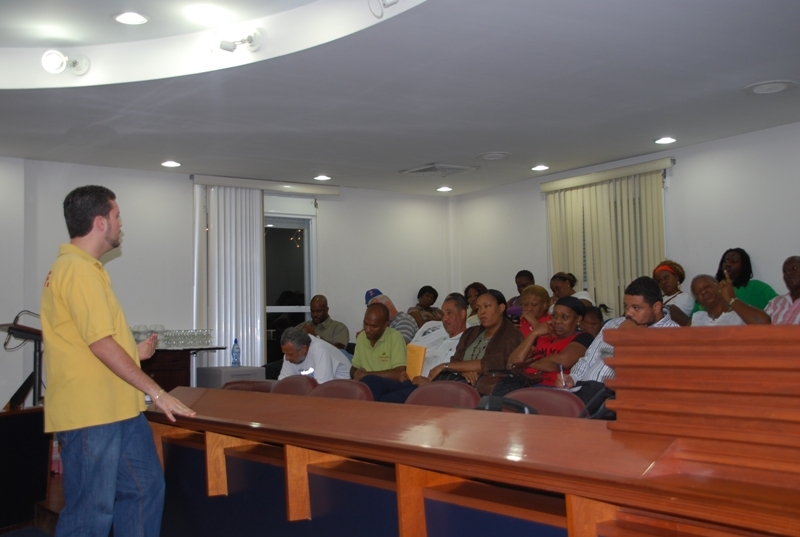 President of the SCDF Stuart Johnson address booth holders during the first stakeholder meeting
The St. Maarten Carnival Development Foundation (SCDF) will host its second meeting for booth holders and calypsonians upcoming Wednesday, Jan 19 at the Government Administration Building. The meeting for the calypsonians will start at 6:00pm followed by the booth holders at 7:00pm.
The foundation met with both groups two weeks ago to discuss Carnival 2011 and the possibility of fee/prize restructuring. The SCDF noted that in a financially difficult year, decisions that are in the best interest of Carnival in general must be taken.
However, President of the SCDF Stuart Johnson said it was important to include the opinion of all stakeholders in the decision making process. "We all love Carnival. All of us realize that Carnival is bigger than us. As the foundation with the responsibility of executing Carnival, we have to always keep the bigger picture in mind, not just each specific show. We don't have that luxury, we have to ensure that Carnival in general is financially sound," Johnson said.
He added that difficult times sometimes dictate changes. "Two weeks ago we listened to all stakeholders and we have taken some decisions, again, with the best interest of Carnival in mind first and foremost. We will apprise the calypsonians and booth holders of these decisions in the meeting on Wednesday and urge them all to make the effort and be present," Johnson concluded.