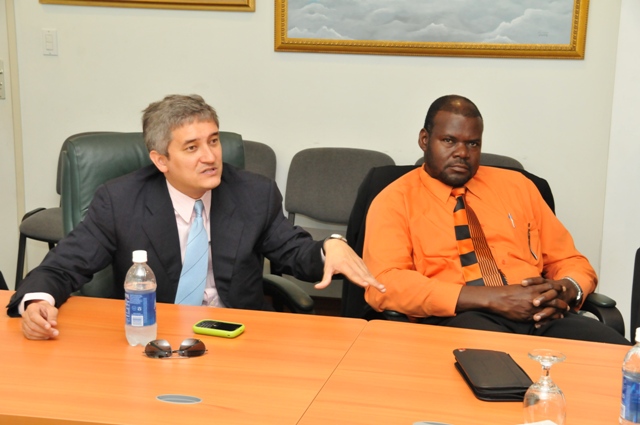 At the Dr. A.C. Wathey Cruise & Cargo Facilities Vice Prime Minister Theo Heyliger was joined by Anguilla Minister of Infrastructure Evan Gumbs and members of the board of the Anguilla Air and Sea Ports Authority (AASPS).
Minister Heyliger welcomed the group and they later shared ideas on current and future developments relevant to cruise tourism and port development.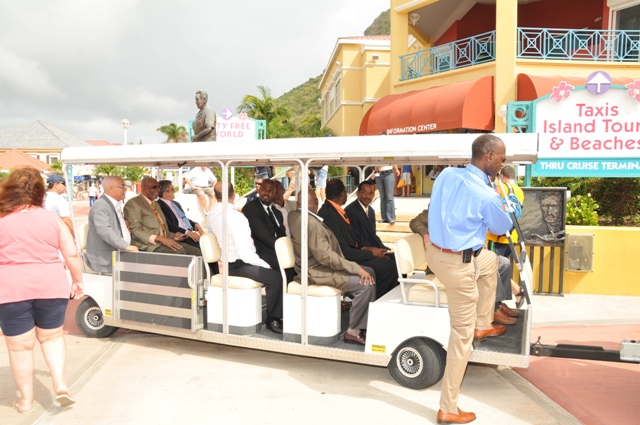 The Port of Sint Maarten is considered one of the most modern port facilities in the North Eastern Caribbean which plays a very important role in trans-shipping.
It was a pleasure to have our colleagues over from Anguilla, Vice Prime Minister Heyliger said on Thursday.
"It is important for islands in the region to get together and have dialogues about past, present and future developments in these areas and also learn from the mistakes that others made, so as to improve the effectiveness and efficiency of port operations in this part of the Caribbean region. Discipline, regulation, order, and structure are important elements in this regard," Heyliger, who is also responsible for Public Infrastructure and Port Affairs pointed out on Thursday.
Chief Executive Officer (CEO) of the Sint Maarten Harbor Group of Companies Mark Mingo, gave a presentation to the Anguilla delegation in the conference room about current and future developments at the port facilities, which encompasses cruise and cargo.
He explained and shared information with the delegation about research that was carried out, which ranged from the spending of cruise passengers to customer satisfaction of the destination to passenger distribution. Sint Maarten he said ranks among the top ports in the region, he added, which is maintained by assertively selling its product, reinvesting, and training, among other elements.
Chief Operations Officer (COO) of the Harbor Group, Keith Franca also gave the Anguillan delegation information about the facilities during a tour.
He explained the details of the facilities which ranged from what the Harbor Company is doing in terms of safety, the industry accommodating yachts, and other developments at the harbor.
Present from the Anguilla delegation were Minister of Infrastructure Evan Gumbs, Hayden Hughes Parliamentary Sector Tourism, Maurice Connor Board member, Bill Grandfield Deputy Chairman AASPA, Ken Banks Chairman AASPA, Leslie Richardson Board member AASPS, and Bancroft Battick Chief Engineer, Ministry of Infrastructure.