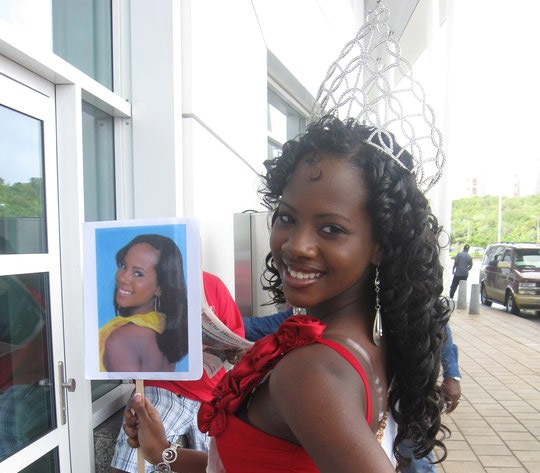 ~ US $5,000 in cash and prizes ~
The St. Maarten Carnival Development Foundation (SCDF) is going all out to rejuvenate its Miss St. Maarten Senior Carnival Queen Pageant which is slated for Tuesday, April 26 at the Carnival Village.
The SCDF on Wednesday issued a call for big employers such as TelEM, Princess Juliana International Airport, the various banks and others to nominate and sponsor a contestant for the pageant.
Registration forms can be emailed to anyone who requests one and, in fact, SCDF said it will send out those forms to these entities. "Basically we are reaching out to everyone, but it would be times past if companies would nominate a young lady to participate in the pageant," President of the SCDF Stuart Johnson said.
"We are also meeting with the leaders of the various modelling and entertainment groups who have shown an effort in assisting us. The Senior Queen show is back in the village and we are determined to put on a good show for Carnival and queen show lovers," Johnson said.
The young lady who is crowned queen will win quite a package of cash and prizes totalling US $5,000, through the contributions of corporate sponsors. Runner-ups will also win all sorts of material prizes which will be announced by SCDF soon.
To participate in the Senior Carnival Queen Pageant young ladies should be between the ages of 17 and 25, unmarried with no children. The structure of the competition will have the contestants appearing in swimsuit, Carnival costume, talent, evening gown and cultural wear.
Johnson also called on all former queens and chaperones to step up and assist the SCDF. "We know you are out there, we could use your assistance in reviving this show. We know the last few years have been a little tough, but the SCDF is working tirelessly on this show. With your contribution we are sure it will be the success it used to be," he said.
For the Miss St. Maarten Carnival Queen Pageant SCDF can be contacted by calling 5220509 or emailing sxmcarnival@hotmail.com. Persons with a Facebook account can also visit SCDF's Facebook page by searching "St. Maarten Carnival".