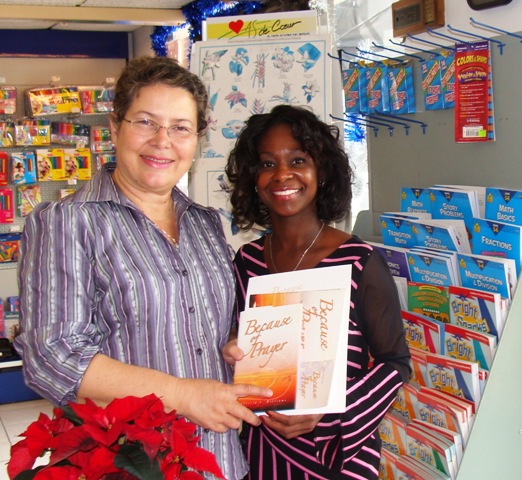 Authors Gerard van Veen and Felecita Williams will sign copies of their newest books at Van Dorp bookstore on the airport road, Simpson Bay, according to Mrs. L. Carty of Van Dorp.
Felecita and Gerard will be in the store on Saturday, December 18, 10 am-2 pm.
Holiday shopping for readers and youngsters in the family will get a sophisticated touch at Van Dorp this Saturday, said Jacqueline Sample, president of House of Nehesi Publishers (HNP).
"Having an author-autographed book to present to a family or friend who cherishes reading or who you would like to see get interested in reading a little more, is a unique style," said Sample.
Senior writer van Veen will sign copies of his Hakuna Matata and Other Travel Stories and any of his previous titles that may be available at the store.
One of the nation's newest authors, Felecita, returns for a second weekend at Van Dorp.
Williams said that she was "so surprised" last Saturday when asked to autograph a copy of her autobiographical Because of Prayer for her former MPC teacher who happened to drop in at Van Dorp and saw the author at the book signing table.
Both books were published by HNP.
"Attractive, quality and affordable 'Made in St. Martin Gifts® for family, friends, co-workers, and visitors have long been a holiday treat from House of Nehesi. This year, teaming up with book industry partner Van Dorp for book signings is another way to reach out to the island's people and to our visitors with an original touch of the St. Martin experience," said Sample.
"Bring the kids, meet and talk with the authors at Van Dorp, get your gift books autographed, and have a Merry Christmas and a Happy New Year," said Sample.