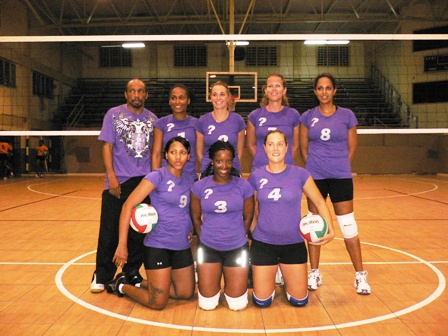 On Wednesday night the Simva 2010 Volleyball finals continued at the L.B. Scot Sports Auditorium.
As expected Guess Who became SIMVA 2010 Volleyball Champions when they beat Super Six in three sets becoming the new volleyball queens. Guess Who needed one hour to win the match with the scores 25-12,25-8 and 25-22. In the first two sets Super Six didnt put up much of a fight. But in the third set they came alive and threathened Guess Who in the early part of the set. Super six was leading 7-3 but afterwards Guess Who rallied to tie the set at 8. Guesss Who lead by their main attacker Veronique Berthelot steamed thru to win the third set and thus becoming champions.
In the men's finals Reptiles won their second game against United to set the series 2-1. The match went to four sets and had all the drama and excitement expected from a finals were both are very well matched against each other. The volleyball fans were treated to another show of volleyball were each player played with their heart and sould fighting for every point. The scores were close in each set with the lead changing constantly between the Reptiles and United. Reptiles won the firts two sets with the scores 25-20 and 25-21. United then turned the tables by winning the third set 25-19. The fourth set had the crowd standing on their for the whole set prodding their favorite to win. The teams were tied no less than six times after they reached 20-20 with the set ending 31-29 in the favor of Reptiles.
Reptiles now lead the series 2-1 and only need a win on Saturday to be crowned the 2010 champions. United is now with their backs against the wall and must win to keep their hopes alive.
There will only be one game on Saturday night starting at 8:00 p.m. at the L.B. Scot Sports Auditorium. If Reptiles win thier game, the awards ceremonies will follow immediately there after. If United wins then there will be a final game on Monday.