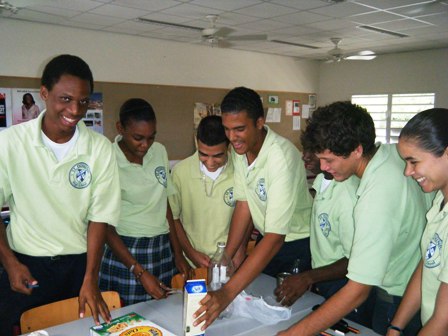 On Wednesday November 10, 2010 the St. Maarten Youth Council Association presented the 2010 International Students Academic Achievement Awards. This award program honored secondary school students who were at the top of their class in the 2009/2010 academic year. Final year students are not eligible.
In addition to the Academic Achievement Awards, students were honoured with the Stellar Performance Award for continued Academic Excellence. This award honors students who are receiving their second or more consecutive academic achievement awards. This year's Stellar awardees are Aldair Petronilia, Jackie Constanzo, Annabelle Vlaun, Julique Hodge, Ekta Thawani, Ece Unal, Pravin Mahbubani, Carla Vlaun, Vijay Dayalani, Avon Lee, Sean Budhrani, and Tess Hokin.
Vijay Dayalani also received the Pursuit of Excellence Award for having received an Academic Achievement Award each year of his eligibility. The award was accepted on his behalf by his parents, as he skipped his final year of high school and is now enrolled in the United World College.
As we mark International Students Day, we exhort all students, regardless of age, ability and social status to embrace the future with a spirit of excellence. Always strive to be the best 'you' that you can be. Do not allow anyone to steal your dreams. Your path to success may be long and winding, while others seem to find all the shortcuts, but persevere. The race is not to the swift, but to the one that endures to the end. Take stock of your companions; are they encouragers? Do they build you up or tear you down? Surround yourself with positive people who will not only support your dreams, but who will hold you accountable and will challenge you to persevere.
St. Maarten needs all of its citizens, young and old, to be engaged and to participate fully in nation building. We have a nation to build and a country to mold. Let us learn from the mistakes of our past, build on the successes of our present and embrace our future with a spirit of excellence.