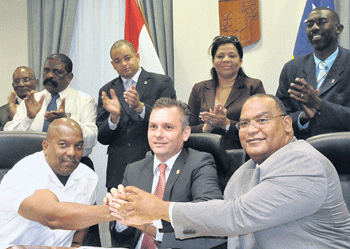 WILLEMSTAD — In Fort Amsterdam, the political leaders of the parties in question – Premier Gerrit Schotte (MFK), Helmin Wiels (PS) and Charles Cooper (MAN) – signed the document 'Pa un Kòrsou Soberano, Solidario i Sostenibel' (For a Soeverein, Sympathetic and Permanent Curaçao).
NEWS ARTICLE TAKEN FROM WWW.AMIGOE.COM
In the program, the coalition presents their vision for the future development of Curaçao during the next four years. The objectives to be realized the next years are presented per Ministry.
The plans to be realized in the next years, regard amongst others, establishing Papiamentu as the official language of Curaçao; insisting on the island playing a larger role in the foreign regional policy of the Kingdom; substantially improving the service provision by the government; installing a vigilante patrol to support the police in the districts; reducing excise on petrol, and selling 3000 FKP-houses to tenants in order to generate extra funds for the construction of more rented houses.
The coalition agreement of the coalition parties was long in coming. During the past period, various coalition members urged the government to forward the coalition agreement to the States. One of these States members was FOL-leader Anthony Godett. This morning he said he had learned that the three political leaders had signed the document. However, he regretted that until this morning, the document had still not been forwarded to the States. "The document was signed yesterday. The document was forwarded to all media in the meantime, but we, the representatives of the people in the States, have not received it yet. How long must we wait?" Godett wonders.
In a reaction through their party-chairman in the States Pedro Atacho, the PAR indicates that the party is not waiting for the coalition agreement at all. According to the yellow party, this document is nothing but a political agreement from the three political leaders. "What we want to see is the government program including the policy of each Minister of your cabinet on the period of government 2010 up to and including 2014. The fact there's still no government program, only a coalition agreement, makes it difficult to discuss the 2011-budget. The budget is namely the calculation of a government program and not of a political agreement", Atacho states in a letter that he sent to Premier Schotte.
Atacho urges Schotte to forward the government program, but also the 2011-budget to the States as quickly as possible.
According to the chairman of the yellow party, one cannot begin the year 2011 without the States having approved the budget for that year. He therefore requests Schotte to forward the government program to the States as quickly as possible.
NEWS ARTICLE TAKEN FROM WWW.AMIGOE.COM