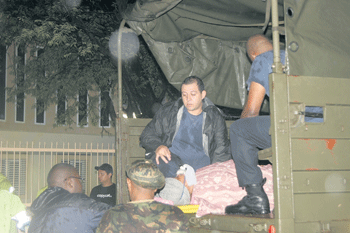 WILLEMSTAD — Marines of the Command of the Naval Forces in the Caribbean area (CZMCARIB) are on standby to assist local authorities with the relief activities due to the heavy weather.
NEWS ARTICLE TAKEN FROM WWW.AMIGOE.COM
Governor Frits Goedgedrag submitted a request for mild military assistance last night when it became clear that tropical storm Tomas was causing considerable inconvenience. A request was made for intensive assistance as well during the course of the morning. The emergency staff, in which Defense and the Coastguard are represented, is currently making an inventory where assistance is needed.
Ready for deployment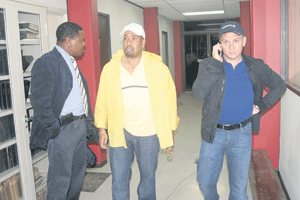 Two platoons of the Land Forces at Navy base Parera are ready to be deployed for relief activities. A few vehicles, including '4-tonners' are being made ready for deployment and there are four dinghies with engine ready for deployment. The AS355 Coastguard helicopter is currently flying over Curaçao to get a good impression of the circumstances. The Superrhibs from the Coastguard are currently patrolling along the coast. A navy platoon was also on standby for assistance last Saturday on Aruba. Apparently, the situation isn't so bad there.
The main tasks of the Command of the Naval Forces in the Caribbean area regards the external defense, assisting civil authorities and maintaining international legal order. A derivative of this is offering military assistance, which consists of 'mild military assistance' for example with disasters, accidents and interruptions in traffic/connections. The deployment of soldiers within the framework of mild assistance only occurs after the Governor's consent.
An example of this regards the deployment of marines during the Omar hurricane (2008), but also the deployment of soldiers and defense material with the search for the missing American student Natalee Holloway (November 2005) and for the missing American vice consul James Edgar Hogan (September 2009).
NEWS ARTICLE TAKEN FROM WWW.AMIGOE.COM