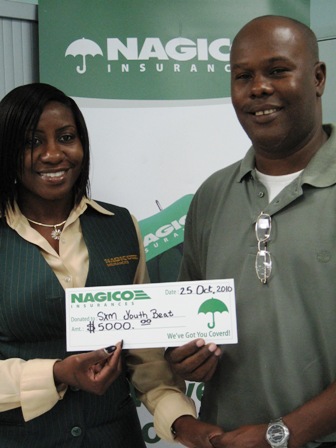 President of St. Maarten Youth Beat Foundation Mr. Emmanuel York received a cheque to the value of US$ 5000.- from NAGICO Insurances in support of the AND 1 Street Ball legends live event that will be taking place this Friday 29th October at the LB Scott Sports Auditorium.
The president of the foundation commented: "On behalf of the Youth Beat Foundation, I hereby thank NAGICO for once again coming forward and maintaining its Good Corporate Citizen status in our community. We encourage all to come out in support of this event that will bring a message against gang violence and drugs and promote good behavior amongst our young people. It also will highlight the importance of sports in the development of any child."
The organizers have indicated that the event will be a family oriented one in the sense that parents and children alike will benefit from not only the educational message but the overall basketball entertainment. Price per tickets are $15.- in advance and $20.- at the gate, and can be bought at Van Dorp Eddine or at PJD2 Radio Station in Philipsburg. Administrative Clerk for NAGICO Insurances Julie McCormack, presented Mr. Emanuel York with the cheque.