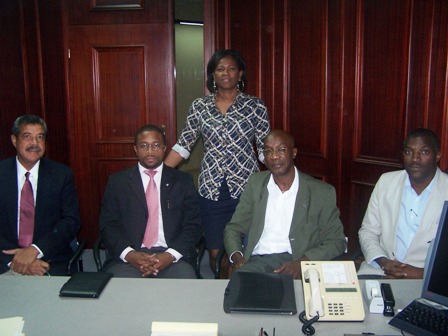 President of Parliament Drs. Gracita Arrindell on Thursday afternoon met with the four factions represented in the Parliament of Sint Maarten in a briefing session to discuss a number of issues related to the aforementioned.
Representing the Democratic Party (DP) faction was Senator Leroy De Weever, National Alliance (NA) faction Senator George Pantophlet, United Peoples (UP) party faction Senator Romain LaVille, and Independent Member of Parliament Senator Patrick Illidge.
The four faction representatives along with the President of Parliament decided upon the first session of parliament which is set for Monday, November 8 at 9.00am.
Other parliamentary business that was discussed is: current status of the parliament building, incoming/outgoing correspondence, voting bureau and incoming new members of parliament, training of members of parliament, the 2011 budget, the parliamentary rules of order, members for the various parliamentary sub-committees, appointment of the Vice Chair person of parliament, logo contest for the emblem of parliament, and pending legislation of the former Netherlands Antilles.
The President of Parliament following the meeting with faction representatives was given a presentation related to a document management system for parliament.
"Parliaments the world over deal with a lot of paper, but since the invent of various technologies in information management, we are moving towards having an efficient and paperless system as much as possible while at the same time, creating processes that the public can retrieve information as expeditiously as possible in a simple manner," Arrindell explained.
President of Parliament Gracita Arrindell said that she would like to see the 2011 budget of country Sint Maarten handled as soon as possible.
"The first meeting with faction representatives went very well. Everybody is very enthusiastic and are ready to start working on the peoples business," President of Parliament Arrindell told the Government Information Service (GIS).
Certain pending legislation leftover from the Netherlands Antilles also needs to be handled, and these will be prioritized especially those with certain "international" deadlines related to treaties that fall under the scope of "international" law.
Also present for the meeting was interim Secretary General Frank Hanze.
The Parliament of Sint Maarten has 15-members; six from the United Peoples (UP) party, six from the National Alliance (NA), two from the Democratic Party (DP), and one independent member namely Senator Patrick Illidge.