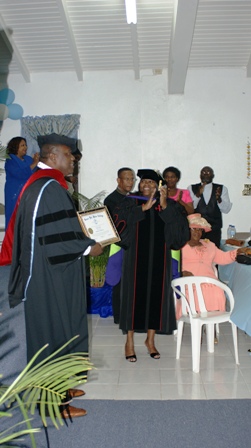 The SBO Maritime Assistant Course level 1, which aims to train drop outs from the secondary school level to become professionals in the maritime sector, has delivered nine new graduates.
From the 16 students that started the course in September 2009 nine managed to complete the full course successfully: 6 with diplomas and 3 with certificates.
The course is very practical. During 1,5 days at school subjects such as Basic Mechanics, Boat Painting, Social Skills, English, Kayaking, Swimming and Dingy Driving are taught. Coordinator of the course, Rien Korteknie, especially wants to applaud the students and WIEMS for the 100% passing rate of the students for the very important First Aid Responders Course.
In September of this year a new group of 15 students has started with The Maritime Assistant level 1 course. The course is organized by SVOBE at Milton Peters College and is financed through government and with extra financial assistance via USONA from Dutch Development Funds for Education and Youth. SBO Service center/DERPI assists the MPC-SBO team with training of teachers, job coaches, curricula development, drop-out prevention and organizational advice.
This year's graduates received their diplomas and scholarship on October 21, from 7 pm at the Milton Peters College.
Also present at the graduation ceremony was Minsiter of Education Ms.Rhoda Arrindell.