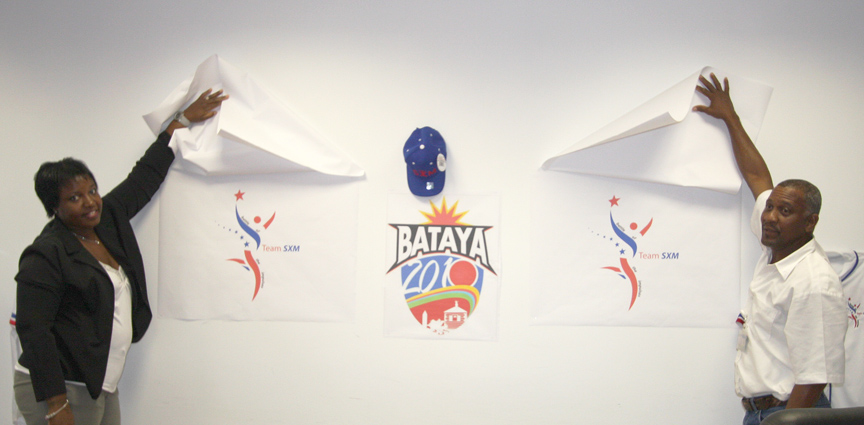 Telecommunication providers TelEm Group and UTS have taken a truce as rival companies to join forces in the annual teleco sports exchange – Bataya de Impulso (Battle of the Impulses).
This year's contest is being hosted on St. Maarten where the joint teams of both companies will compete under the name Team SXM.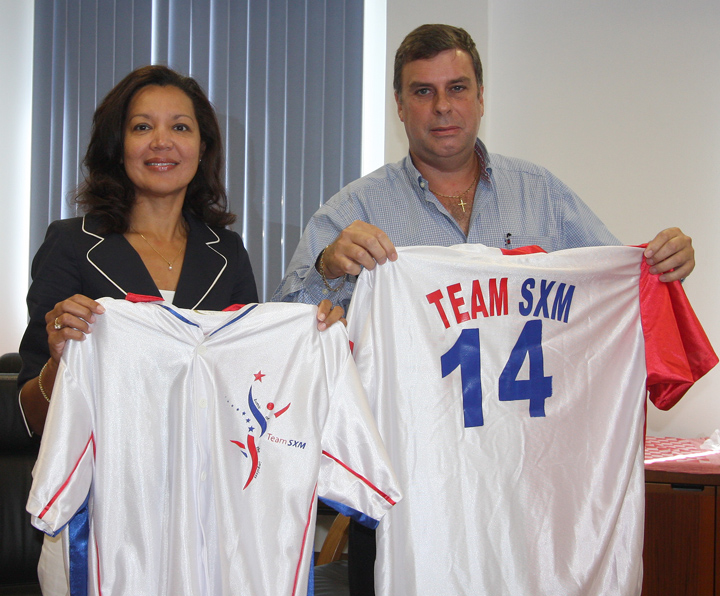 Team jerseys bearing the Team SXM logo were presented to TelEm Group Chief Financial Officer (CFO), Mrs. Helma Etnel, and UTS General Manager, Glen Carty, during a presentation ceremony at the TelEm Group Building Monday morning.
Also present were board members of the sports associations of both companies who unveiled the Team SXM logo to the media present and to the general public.
The TelEm Group CFO welcomed the UTS Group and Mr. Carty and said management fully supports the initiative of its own personnel association to combine the resources of all telecommunications personnel on the island to compete against their counterparts from Bonaire, Aruba and Curacao.
"The organizers have done a very professional job in presenting their joint logo, program and invitations for the event with much style," said the CFO.
"It is a great opportunity to serve as an example that we are one in the new Country St. Maarten and that we need each other at times – That we cannot only compete against each other but that we can also have fun and enjoyment together because historically there are many connections between the companies," said Mrs. Etnel.
She reminded that in years gone by the companies competed together until the personnel associations of both companies went their separate ways several years ago.
The UTS General Manager, Mr. Carty, said it has always been a bone of contention with UTS personnel on St. Maarten that they are forced to compete, in some cases, against their spouses, partners and friends when competing as part of the UTS team in Curacao.
"Along with Mrs Etnel I wish to congratulate the two associations and organizations for doing a fantastic job and working together to make this happen," added Mr. Carty.
On behalf of the TelEm Group Personnel Association, Secretary Ms. Nataska Charles said it has been a good experience working along with their counterparts at UTS and after many weeks of preparation, both groups are "ready to compete" as Team SXM.
Ms. Charles outlined the series of sports activities that will take place including: Softball, Dominoes, Soccer, Bolas, Volleyball and Mens Erg Je Niet.
The sports exchange gets under way on October 28th with a parade of teams through the Philipsburg area.
Team SXM will also be sponsoring a host of events including a Halloween Masquerade Bash for participants on Saturday October 30th ending with a grand closing and trophy presentation ceremony at the Iguana Beach Bar in Guana Bay, the following day.
UTS personnel association representative Ms. Vivane de Weever thanked the TelEm Group Personnel Association as well as the management of both companies for financial support of the sports exchange this year.
"We will be competing as one island and we are very hopeful of doing well," said Ms. De Weever.
Quizzed about strategic partnership talks under way with UTS as a possible future partner of TelEm Group, both Mrs. Etnel and Mr. Carty warned against reading anything more into this sports initiative.
"There are several potential partners that we are negotiating with of which UTS is only one so this event has nothing to do with the negotiations," assured Mrs. Etnel.
Mr. Carty said the Team SXM idea came from the employees themselves, though from his own personal view a partnership with TelEm Group would be a positive thing.
"That is a very personal view and like Mrs. Etnel said it has nothing to do with the sports exchange," said Mr. Carty."
Both Mr. Carty and Mrs Etnel reminded that with more than 300 participants travelling to the island to take part in the sporting events, this can be viewed as a mini boost to the economy.
"We are still in the slow season and our visitors will be staying in local hotels and guest houses and they will be shopping and spending while on the island," said the two company executives.