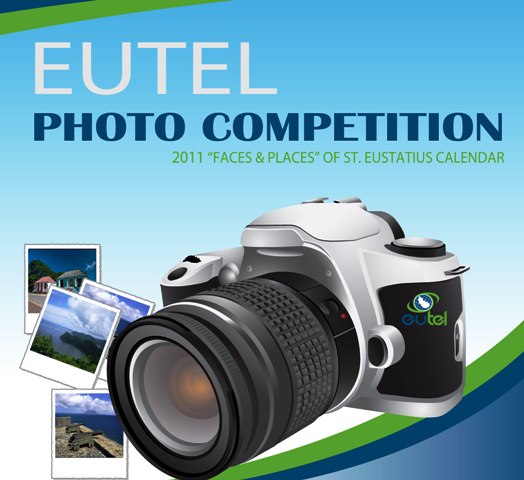 The excitingly new cultural campaign launched two weeks ago in efforts to involve EUTEL clients and the public of St. Eustatius in creating a EUTEL customer appreciation calendar for 2011, will end on October 22, 2010, giving participants a few days left to submit their pictures and vote online for their favorite face.
The Faces & Places of Statia Campaign is a photo competition created by Innovative Marketing Creations (IMC) and EUTEL, consisting of two components to provide the people of Statia with an opportunity to showcase their photographic talents or vote for their favorite "Faces" that will be featured in EUTEL's 2011 Calendar.
IMC Marketing Assistant Milouschka Euson commented that "IMC and EUTEL are proud to provide the people of Statia with an innovative and cultural experience that will bring EUTEL and the people of Statia closer. We have been having exceptional feedback, however, we do continue to encourage the Statian community to take advantage of the opportunity and be part of the efforts in creating a memorial calendar that St. Eustatius can appreciate".
Participants have been submitting their photos of animals, scenic areas, and people and actively casting their votes online. Nonetheless, EUTEL is calling on the public to participate and focus their pictures on historic Statian monuments, and picturesque places as well as to continue to cast their votes online.
EUTEL Interim Managing Director, Mr. Benjamin, was quoted stating that "EUTEL has been getting great feedback thus far; however, we are encouraging more people to take advantage and participate in the campaign. This is the first time EUTEL is involved in creating a branded calendar for and by the public, and it is very important for everyone who has not yet participated, to do so during these last few days to profit from the opportunity to showcase their talent, and finalizing a great calendar Statia can be proud of".
Residents of Statia have till this Friday to submit their best photos of their favorite historic or culturally prominent "Places" in St. Eustatius. EUTEL will then choose the best of six photos to be featured in the 2011 calendar. The other six photos to complete the 12 month calendar will be chosen by the public via online voting on the EUTEL website.
EUTEL has chosen 10 faces from their rebranding campaign photo shoot. The public can log-on to www.eutelnv.com and select their favorite photo. The six photos with the most votes will be featured in the Faces and Places of Statia Calendar.
EUTEL's 2011 calendar will be handed out to all their clients during the month of December as a token of appreciation during the festive holidays.
IMC is one of the leading full-serviced marketing firms nestled on St. Maarten, and was founded in June, 2002. The company provides a wide range of services strategically crafted to meet the marketing needs of diverse companies and/or individuals.
For more information contact IMC Marketing Assistant Milouschka Euson at 543-2150/51 or email at support@eyemc.net or contact IMC Projects Manager Evencia Seabrookes at 543-2150/51 or email at projects@eyemc.net