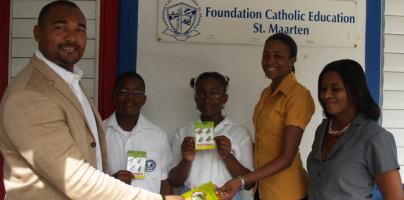 Schoolchildren in St Maarten need not worry about mosquitoes plaguing them in their schoolyards. Recently hundreds of mosquito repellent patches and wristbands were brought to the Catholic school board by John Goedschalk of the Suriname-based company that produces mosquito repellent patches and wristbands.
"In China — where I do a lot of business — it is a custom to bring a present with you when you visit someone's home. I always liked that custom; I figured that since I am bringing my business to St Maarten, who better to bring this present to than to the children of the island," said Goedschalk.
Goedschalk's company, Muskietoloog (mosquitologist), in a little over a year has become the leading mosquito repellent producer in Suriname.
"We did over 100,000 sales in one year," said Goedschalk, who started the company after returning "home" from the Netherlands a few years ago.
"When I returned, me and my family were literally attacked by mosquitoes, so that was an encouragement for me to start the company," he said.
Muskietoloog's products are based on citronella and do not use N-Diethyl-meta-toluamide (DEET), the most common active ingredient in spray-on insect repellents.
"DEET has proven to influence people's behavior and cause mood-swings. And it was tested on adults, not on children, so its effects on children can be far-reaching," said Goedschalk. "Our product is safe for children."
He stressed that even while his product is not harmful, it still doesn't touch the skin of the people that use it; in the wristband the citronella is contained in a reservoir. The patch is meant to stick on garments. The products emit a strong citrus scent.
"Mosquitoes can't stand it," said Goedschalk.
The school children at Sister Borgia School — which shares premises with the Foundation Catholic Education St Maarten — were excited with the product; as were their teachers.
"I had one of the patches on my son a few days ago and he was amazed that mosquitoes weren't coming near him," said school board Superintendent Lilia Aventurin, who accepted the donation on behalf of the board.
"We only have one concern and that is for the children who might be allergic to citronella. Besides that, we're happy with this donation, because we have a huge mosquito problem here at our school. Especially with the rain that came down in recent days," said Aventurin.
Introducing his product in St Maarten under the name "Mosquito Fighter", Goedschalk is rolling out his promotional campaign as of next week, with newspaper and radio ads.
From a business perspective, his entrance here is strictly business, with St. Maarten being the first stop in the Caribbean.
"I am taking this product to the Caribbean, because people in the region have a mosquito problem too," he said.
The product is distributed through several local supermarkets and pharmacies.
He said though that while it is business, he intends to be a good corporate citizen.
"I am meeting with the health officials on the island as well, and would like to also donate more of the product to other school-boards," said Goedschalk. "When I grew up, I used to suffer mosquito bites. You should have seen my legs. Looking back, I wish we had a product like Mosquito Fighter back then. My donations to the school boards are my way of helping children today avoid something that caused me problems as a child."